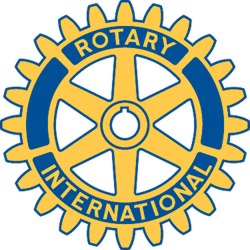 Rotary Club of New Bedford, MA - Weekly GAM
GAM...A nautical term describing the exchange of news between vessels departing from and returning to their ports...
August 22, 2014
This Week
This week was our Scholarship Luncheon and our guest speaker was a past recipient of one our scholarships. What great advice she gave in her speech to all of this year's recipients as they venture out into their college years. There were 8 scholarships rewarded this year. The recipients were Mackenzee Borges -GNBRVTHS(1 of 517/4.42), Diene Conde – GNBRVTHS(3 of 517/3.95), Ashley Desire – GNBRVTHS(2 of 517/4.23), Holly Giard – GNBRVTHS(10 of 517/3.93), Aleesia Gonzalez – GNBRVTHS(40 of 517/3.69), Leeannne Pereira – NBHS(no ranking/3.75), Austin John Taylor - GNBRVTHS(58 of 517/3.57) and Kibi Williams-Brown – NBHS(8 of 515/3.57). Each recipient had a different story to tell in their essay and each one was very touching.
Alan Freitas - the Bridge Home cookout will be held this Saturday August 23rd at 12:00pm at Alan and Joy's home. The Bridge Home staff and children will be arriving around 12:00pm. This will be one of our Community Service Project's for our club. Hope to see everyone there.
Mark Treadup - The New Bedford High School's Community Project is looking for volunteers to help paint some areas in the High School and help with some landscaping on August 22nd, 23rd and 24th between 8:00 and 4:00pm. Anyone can sign up for a 2 hour shift. If interested in volunteering you can sign up at:
https://docs.google.com/forms/d/1ZmQ1cbxB4I0GrLOa61mh2OA-h-yn6mcWLRGXG_68O2M/viewform?usp=send_form
Schwartz Center Walkathon - Sunday September 14th. Registration will begin @ 8:30am. Additional information will be provided. This will be one of our Community Project Service's. I walked for the first time last year and it was a fun event. What a great turnout of people who walked and lots of fun.
New Bedford Chamber of Commerce Business Expo – The Board has agreed to purchase space at the Business Expo on Wednesday October 15th @ White's of Westport. We will be looking for volunteers to man the booth for this event. More information to follow.
Next Week
August 27th – Meeting will be our monthly evening meeting which will be combined with the New Bedford Chamber of Commerce Business After Hours located at:
First Citizens' Federal Credit Union – 570 North Front Street, New Bedford
Odds & Ends
August 23rd – Bridge Home cookout at Alan and Joy's House
September 10th – Meeting will be held at The Wamsutta Club and we will be inducting our 2 new members Kendra Strangis and Peter Ashworth.
September 17th – Meeting will be held at The Wamsutta Club and our guest speaker will be Patricia Saint Aubin who is running for State Auditor.
One More Thing
Children: You spend the first 2 years of their life teaching them to walk and talk. Then you spend the next 16 telling them to sit down and shut-up.
Lisa Faria
GAM Editor