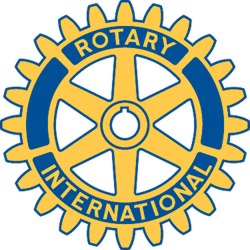 Rotary Club of New Bedford, MA - Weekly GAM
GAM...A nautical term describing the exchange of news between vessels departing from and returning to their ports...
July 27, 2014
This Week

Our guest speakers were Maryann Goulart and Sarah DeMoranville from The Little Theatre of Fall River, Inc. Sarah has performed in several musical previews for the Theatre and performed a few songs for us. She has a voice of an angel the performance was amazing. Maryann does not perform much now but has accepted the roll as the Hair Hag in Les Miserables. Congratulations on her roll. Also, she did bring a few props that are used in their performances which were very interesting.
The Little Theatre of Fall River is celebrating their 80th year of Community Theatre in the Fall River Area. The upcoming performances are Les Miserables running from October 16th-19th 2014, The Musical Comedy Murders of 1940 running from March 19th-22nd 2015, Legally Blonde the Musical May 14th-17th 2015.
The Rotary Club was offered a $35.00 discount purchase price of a subscription if we have 20+ people interested. The subscription includes 3 tickets, one ticket for each of the shows. If you are considering purchasing a subscription please let myself or Cheryl know.
For additional information go to littletheatre.net.
Also, it was suggested by Alan that I audition for the Trailer Park Musical which I guess he thinks my trailer trash background will come in handy. Thanks Alan!
Odds & Ends
We had a Special Birthday on Wednesday Orren Robbins who turned 82 years young. HAPPY BIRTHDAY ORREN!!!
Great News! The Bridge Home project grant was approved. We are just waiting for the go ahead to start the project. We will dedicate a Saturday either the end of August or September will let you all know.
August 20th – scholarship luncheon at The Wamsutta Club
August 27th – Social Evening meeting location TBD
Next Week
July 30th - Meeting will be held at The Wamsutta Club in New Bedford, Ma. Our District Governor Valerie Perry will be visiting our club. Please make every effort to attend and as always guests are welcome.
One More Thing
"I am a marvelous housekeeper. Every time I leave a man I keep his house."
Zsa Zsa Gabor."
Lisa Faria
GAM Editor