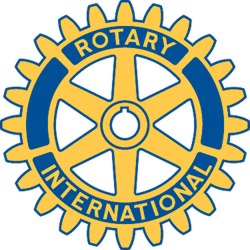 Rotary Club of New Bedford, MA - Weekly GAM
GAM...A nautical term describing the exchange of news between vessels departing from and returning to their ports...
July 11, 2014
This Week
Small group this week hopefully you were all on vacation enjoying the weather.
Our guest speaker was local artist Wendy Goldsmith who is a local artists herself and displayed some beautiful creations of her own at our meeting. Wendy discussed the Art Drive which is August 9th and August 10th. The Art Drive is an Open Studio Tour through Dartmouth and Westport. It is a tour from studio to studio where the local artists will each display their works. A portion of their sales proceeds will go to Lloyd Center for Environment which is an organization that educates people about their natural local environment. Also, another event is for the past 4 years they chose a fish this year it is the Winter Flounder. Each Artist will create their own masterpiece of the fish and they will all be displayed on Friday July 18th at the Westport Winery Vineyard and Winery and the fish will be displayed at their studios. Wendy displayed her fish at our meeting and what an imagination to design this fish it takes real talent and imagination to create this masterpiece. For more information go to www.the-Art-Drive.com.
Odds & Ends
Charlie Murphy is hosting a Rotary pool party on Sunday July 13th from 2-6 for our new District Governor Valerie Perry. Also, the installation of Ivan Brito as president for his fourth and final year at 4:00pm. Please RSVP to Charlie Murphy @ 774-930-5226
July 23rd – Meeting will be at the Wamsutta Club and our guest speaker will be Maryann Goulart from Little Theater of Fall River
July 30th – Meeting will be held at the Wamsutta Club and guest speaker will be District Governor Valerie Perry
Next Week
July 16th – there will be no luncheon meeting we will be having our Evening Social meeting at Corks located at 90 Front Street, New Bedford, Ma @ 5:00pm. Please RSVP to Cheryl by Tuesday July 15th.
One More Thing
"Papa, what is the person called who brings you in contact with the spirit world?"
"A bartender, my boy."
Lisa Faria
GAM Editor