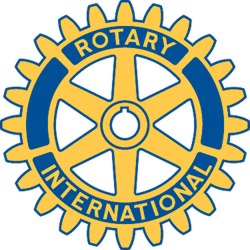 Rotary Club of New Bedford, MA - Weekly GAM
GAM...A nautical term describing the exchange of news between vessels departing from and returning to their ports...
July 6, 2014
This Week
What a great turnout for our first meeting with our newly elected President Cheryl Barrett. Cheryl thanked everyone who attended the Installation dinner and discussed that one of her goals this year was to focus on new membership. She would like to get 5 new memberships this year.
Our own Ellen Gitlen was our speaker owner of Diversified Marketing Group. Ellen started sales at the age of 5 years old going to her grandmother's house picking flowers and selling them after but at that time she did not make a profit because she had to give the money back. She majored in retail in college and did sales for 10 years until the showroom closed down in 1995. She then worked at Kartens for 1 year but had to leave because she did not take home any money she left everything there. She then started as a partnership within Diversified Marketing Group which she eventually bought the partner out and is sole owner of Diversified Marketing Group. It was amazing what Ellen brought in showing only a portion of what she can offer any business, non-profit organizations or fundraiser promotions etc. Some of the items which she did bring too many to mention all were a soft fabulous blanket, beach duffle bag, coffee mugs, pen holder, calendars, mouse pads, clothing and I can go on and on there were a lot more items that she brought in. If anyone is looking for items that you need personalized Ellen is the contact person to give ideas on what to give and personalize it.
Next Week

July 9th meeting will be held at the Wamsutta Club – our guest speaker will be Wendy Goldsmith to discuss "The Art Drive" hope to see you all there.
Odds & Ends
We had a quick club assembly and went over some items that were discussed at our Board Meeting on June 24th:
Our Community Foundation has a balance of $9,500.00

Playground project update for Bridgehome – the grant has been submitted and will be picking a Saturday in July or August to complete the project. Hoping all can participate to in building their new playground. This be one our Community Service programs for 2014

Scholarship Committee – had 29 scholarship requests this year. They spent 2-3 nights reviewing all of the applicants and narrowed it down to 8 scholarships this year. There was a lot of discussion and it was approved on a 6-4 vote to award 8 scholarships this year.

Our weekly meeting on August 20th we will be awarding the 8 Scholarships at our weekly meeting and a 2011 recipient of our scholarship Arielle Gomes will be our guest speaker that day

Kendra Strangis - proposed for membership
June 100%-ers were: Cheryl Barratt, Kathy Castro, Lisa Faria, Alan Freitas, Paula Freitas, Carole Johnson, Ron Kierstead,Michelle Lapalme, Stu Lawrence, Rich Medicke, Tara Pacheco, Gilbert Reis, Orren Robbins, Marc Shpritzer, Linda Silveira, Mark Treadup, Nancy Wood Dupont.
Great JOB!!
Upcoming Rotary Meetings:
July 16th – Our evening social – TBD location
July 23rd – Meeting at the Wamsutta Club – our guest speaker will be Mary Ann Goulart from Little Theatre of Fall River
July 30th – Meeting at the Wamsutta Club – our guest speaker will be our District Governor
August 20th – Meeting at the Wamsutta Club to present scholarship's
One More Thing
My Old aunts used to come up to me at weddings, poking me in the ribs and crackling, "You're next!" After a while, I figured out how to stop them. I started doing the same thing to them at funerals!
Lisa Faria
GAM Editor