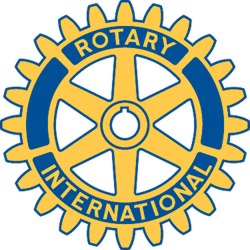 Rotary Club of New Bedford, MA - Weekly GAM
GAM...A nautical term describing the exchange of news between vessels departing from and returning to their ports...
June 30, 2014
This Week
What great evening celebrating the Installation of our Officers for 2014/2015. As always Orren Robbins did a fantastic job handling the Installation ceremony. Cheryl Barrett our newly elected President graciously accepted her tiara and robe from Alan Freitas. Alan was sworn in as our immediate past president after a lengthy term of 90 minutes as club president.
The following were sworn in as Board of Directors: Cheryl Barrett, Kathy Castro, Lisa Faria, Alan Freitas, Paula Freitas, Linda Silveira, Carole Johnson, Michelle Lapalme-Oliver, Rich Medicke, Tara Pacheco, Gilbert Reis, Russell Whynacht and Nancy Wood. Paula Freitas – Treasurer, Michelle Lapalme-Oliver – Secretary, Russell Whynacht – Vice President, Linda Silveira – President Elect.
Alan did a great job singing his song to Cheryl titled, "This is your club now & your world now."
Cheryl presented Alan with a plaque from all Rotarians for appreciation for all his hard work and dedication for his year as President 2013/2014.
Cheryl had touching remarks mentioning Bill Cabral as her mentor and he would be so happy to see her holding this position and all gave a moment of silence for him.
In closing Cheryl thanked Charlie and her family for their support. She also mentioned in her 2 years involvement in the Rotary Club she has made great friendships along with serving our community. Her strategic plan is working toward her goals, 10-20% growth in membership, standout in our community (maybe have a rotary day), and develop a 3-5 year plan to keep it going. A special thank you went out to Michelle and Alan for organizing such a fun night.
I am sure everyone is looking forward to following Cheryl's leadership role. Together we will attain our goals.
Next Week
July 1st – Board Meeting at Hathaway Manor – 5:00
July 2nd – Meeting at the Wamsutta Club – Ellen Gitlin will be our speaker
July 9th – Meeting at the Wamsutta Club – our guest speaker will be Wendy Goldsmith to discuss "The Art Drive"
July 16th – Our evening social – TBD location
July 23rd – Meeting at the Wamsutta Club – our guest speaker will be Mary Ann Goulart from Little Theatre of Fall River
July 30th – Meeting at the Wamsutta Club – our guest speaker will be our District Governor
Odds & Ends
The Swizzle Stix lounge is off limits to me after Alan exposed my singing talents. J
One More Thing
Robert went to his lawyer and said, I would like to make a will but I don't know exactly how to go about it." The lawyer smiled at Robert and replied, 'Not a problem, leave it all to me.' Robert looked somewhat upset and said, 'Well I knew you were going to take a big portion, but I would like to leave a little to my family too!'
Lisa Faria
GAM Editor
?