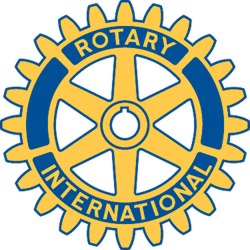 Rotary Club of New Bedford, MA - Weekly GAM
GAM...A nautical term describing the exchange of news between vessels departing from and returning to their ports...
June 21, 2014
This Week
Small turnout this week on a beautiful Wednesday afternoon everyone must have been out enjoying the weather. Not too much to report in the GAM my speaker ELLEN GITLIN blew us all off this week but she had a great reason for not showing up. Ellen's granddaughter was graduating. Her son called her at the last minute to attend the graduation in Natick so I guess we will let her slide this time.
Well this week was probably the last time Alan will be standing at the podium harassing everyone. I am sure once Cheryl is sworn in as president our attendance for the meetings should increase having such a nice person with no insults representing the club should motivate everyone to attend. In all seriousness we should all applaud Alan for stepping up and helping this club succeed this year. Thank you for a great year! Also, Alan stated, "he was honored this year to represent the club this year and that we are getting a great new president". He gave a Happy $12.00 for each month this year he represented the club. J
Report on the Bridge House Project - proposal for the playground should be completed this week.
To anyone who has not replied to Michelle's email for the Installation Dinner on Thursday June 26th @ Cotali Mar please respond if you are attending or not.
Next Week
There will be no luncheon meeting this Wednesday June 25th. Our meeting this week will be the Installation Dinner at Cotali Mar on June 26th cocktails will be at 6:00 and dinner to follow at 7:00. Hope to see everyone there.
One More Thing
A man walks into a bar obviously stone drunk and asks for a drink. "Sorry" the bartender says but you obviously already had a little too much to drink. Fuming mad the drunk walks out the front door and walks into the side door. "Can I have a drink please?" "Sorry" the bartender says "but you can't have a drink here." The drunk walks out and goes into the back door. "Can I please have a drink?" "Enough!" The bartender screamed "I told you no drinks!" The drunk looks at the bartender closely and exclaimed "Darn! How many bars do you work at?"
Lisa Faria
GAM Editor
?