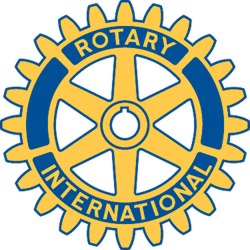 Rotary Club of New Bedford, MA - Weekly GAM
GAM...A nautical term describing the exchange of news between vessels departing from and returning to their ports...
JUNE 11, 2014
This Week
What a great turn out for this week's meeting with speaker Dr. Pia Durkin. For those of you that could not make the meeting Dr. Pia Durkin was very informative and is very motivated to making positive changes with the cities school system. Her background is urban education. She grew up in Queens New York, built a life with her husband and children in Brooklyn New York. She now resides in New Bedford and is excited to be here. Her goal is she wants people to be excited to come here instead of being hesitant and asking who would want to come here. She wants children to have lots of doors open when they come out of the schools. The city needs to invest in the children and revisit the core values: Focus, Persistence, Optimism ("Can do"), Resilience ("Will do") and Passion for success. This has been one of the most challenged years for her because of how long things have been done here in the system and that is why they continue to do it this way. She is building a team of likeminded quality people to support the teachers and providing the tools for them to succeed. What a fantastic presentation and promising changes for the future. Also, there was a great article this morning in The Standard Times about our Rotary meeting with Dr. Pia Durkin as our speaker.
Visitors and Guests: Kendra Strangis - YMCA, Joy Freitas, Charlie Barratt, Carolee Matsumoto, David Gilbertson, Maureen Sylvia – United Way, Roger Cabral – Asst. District Governor and our former Rotarian Peter Ashworth stopped in what a great surprise to see him.
Odds & Ends
Alan gave an update on the Bridge Home Project that it is almost completed and will submit to Charlene Rocha. Charlene is putting together documents to submit to the Rotary District for a grant to complete the backyard for a playground area for the children to enjoy.
Also, anyone that is interested in attending the Induction of incoming District Governor Valerie Perry on June 20th at the Crowne Plaza in Warwick @ 6:00 please let Cheryl know. Cheryl, Alan, Kathy and Carole will be attending.
There will not be a luncheon meeting on Wednesday June 25th but will be having an evening meeting on Thursday June 26th at Cotali Mar 6:00 for the Installation of Officers. As always guests, significant others, spouses and potential members are always welcome at our meetings.
May 100%-ers were: Cheryl, Kathy, Lisa, Alan, Paula, Carole, Michelle, Stu, Rich, Orren, Marc, Linda, and Nancy. Congrats to all. Average attendance for May - a respectable 75%! Good!
Also, another article in The Standard Times today in the Coasting section was Kathy Castro with a picture of Kathy holding up an antique item that will be assessed at the fundraiser Saturday for the New Bedford Education Foundation from 9 am to 4 pm at the Hawthorne Country Club of New Bedford in Dartmouth. For more information contact Kathy.
Next Week
June 18th – Our speaker will be Ellen Gitlin who has volunteered to do her classification speech (thanks for helping me out this week)
One More Thing
"Father," said Dorothy, "that bank in which you told me to put my money is in a bad way." "In a bad way?" returned her father, "Why, my child, that's one of the strongest banks in the country. What in the world gives you that idea?" "Well," said Dorothy, "it returned one of my checks today for $25 marked "No funds."
Lisa Faria
GAM Editor