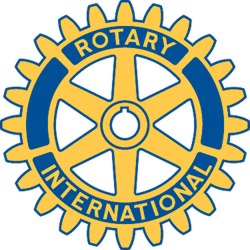 Rotary Club of New Bedford, MA - Weekly GAM
GAM...A nautical term describing the exchange of news between vessels departing from and returning to their ports...
JUNE 5, 2014

This Week
.Well, I'm back, but only for this week while Lisa is away on vacation. I'm sure that you have already seen that she's just as good as me (and maybe even better) as her first two weeks have shown that very nicely.
Our "small but enthusiastic" gathering this week was treated to one of our newer members, Eric Oulette's classification talk. - something we've not had in quite a while. Eric is from East Providence and has been deeply involved with the Boy Scouts of America since 2008. He is the Activities Director of he Narragansett Boy Scout Council that includes the area from Eastern Connecticut to Fall River and Wareham (all of Rhode Island), and is made up of 350 Scout Troops, and 10,000 Boy Scouts. A very informative look at Scouting, an organization that got its start in 1910 and is still going strong all across America.
VISITORS AND GUESTS: Joining us today was friend of Tara, Kendra Strangis.
Next Week
A sure to be big hit - Dr. Pia Durkin, who is charged with the responsibility of turning the New Bedford School system away from its present low position will be our guest speaker. Alan is inviting many New Bedford business people to attend so we're looking for a full house for this important event.
Odds & Ends
Alan up-dated the RotaFest results with a report that another $500.00 has been added to the near $15,000.00 profit already counted, and that the framed 'thank you' presentations to RotaFest donors are being very well received.
Congrats to Tara were plentiful noting her advancement to the YMCA position formerly held by Dan, who has (unfortunately for us) has taken a new job elsewhere and will no longer be able to belong to our Club.
Cheryl reported that at least five of our members will be attending the June 20th Warweick, RI induction of incoming District Governor, East Providence/Seekonk Rotarian Valerie Perry. Others if interested may sign up with Cheryl. Cost is "on the house."
Ten happy members were recipients of the United Way Clambake with Lobster tickets - given to us for our annual spport of this important UW fund-raiser.
Alan told of the up-coming July 17th dinner at the Seaport Inn that will give our Rotary Club a % of the evening sales. Alan's band the "delusional" will be on hand for entertainment. More on this to be sure.
One More Thing
Landlady: - "What are you grumbling about?" Boarder: - "You advertised this place ten dollars a week for bed and board." Landlady; - "Well, isn't this so?" Boarder: - "But I find they are one and the same thing!"
Orren Robbins
GAM Editor