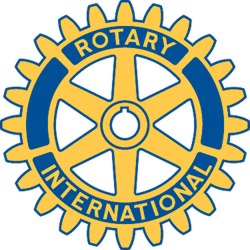 Rotary Club of New Bedford, MA - Weekly GAM
GAM...A nautical term describing the exchange of news between vessels departing from and returning to their ports...
May 21, 2014
This Week
We had a great turnout this week 13 enjoyed dinner and unfortunately our visiting guests from the Interact Club were unable to join us for dinner. Although, Ederick wanted to know if we had a doggie bag for him to take as he was leaving.
Visiting from the Global Learning Charter school were Heidi Eastman – Club Advisor, Michael Carvalho – President, Ederick and Jamie – Vice President. Michael thanked the New Bedford Rotary Club for their sponsorship and support along with presenting us with a plaque. Heidi did inform us that the students came up with this idea and did all the research in purchasing the plaque along with the presenting. Warned by Alan that future leader Elderick we all needed to keep an eye on him, he had quite the sense of humor.
Rotafest 2014 News – Great success huge round of applause to everyone!!!
$11,135.00 – Ticket Sales to Date
$3,430.00 – Auction Items
$890.00 – Raffle
$15,455.00
- $1,440.00 – expenses
$13,014.00 – Net Amount
Alan discussed framing of the certificates to thank restaurants and sponsorships for their support of Rotafest. Members will be responsible for getting the framed certificates to restaurants and sponsorships.
Dues: Just a reminder to all that have not paid their dues please remit dues.
Guest Speaker: Ian Abreu from the New Bedford Chamber of Commerce was here discussing in great detail what the Chamber has to offer. Here are just a few: Economic Development, help with business plans, networking, help students prepare for college and career, savings in health insurance, cost free marketing, press release, member to member discount and more. Ian fit in well with us we are hoping that Roy will list him under the Chambers Corporate Membership so we can see Ian on a regular at our luncheon meetings.
Next Week
Our meeting next week will be an evening meeting at the Sea Fire Grill (old Candelworks).
June 3rd will be our monthly Board Meeting at Hathaway Manor. All are invited (counts as a makeup). June 4th our own Eric Ouelette will be doing his classification talk. (Thank you for volunteering)
June 11th Dr. Pia Durkin will be our guest speaker should be a very informative meeting anyone wishing to invite others to attend we are opening it up to others.
June 26th – Installation of Officers for Rotary year 2014-2015 will be an evening meeting (location TBD)
Odds & Ends
Kathy Castro announced a Fundraiser for New Bedford Education Foundations on June 13th & 14th their Annual Appraisal Day at the Hawthorne Country Club in Dartmouth. For more information contact Kathy Castor.
Ian Abreu added that the Chamber offers Community Trips which they have one heading to Madeira with an action packed itinerary from September 12th -19th. For more information contact Ian Abreu.
One More Thing
I am glad I made Oren smile so much taking over the GAM but the real joke is trying to get this done.
Lisa Faria
GAM Editor
?