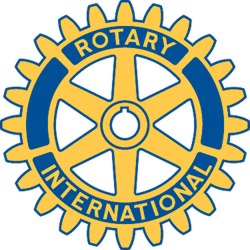 Rotary Club of New Bedford, MA - Weekly GAM
GAM...A nautical term describing the exchange of news between vessels departing from and returning to their ports...
MAY 17, 2014

This Week
.Pretty good turn-out of 16 enjoyed the warm dry weather and rather casual but informative meeting with leader Alan at the helm.
Alan indicated that the committee was still working on the financial results of RotaFest but would have it wrapped up by next week.
Other issues discussed included info that the 'thank you' gift to be given RotaFest wine and food donors, in the form of a plaque created by Ellen's business, would also be ready by next week.
A somewhat confusing request from Rotary International for our club vote for RI President sort of fell apart because we had never before been asked for such action, and we really knew none of the three potential candidates. Oh, well....
Good to see Erik with us one of his few opportunities due to all of the national and international disasters needing his company's service. He sure is a world traveler!
Next Week
We will have a guest speaker that just might be one of our newer members??? Other up-coming items for your calendar are: May 28th evening social at SeaFire, and THURSDAY, June 26th installation of officers for Rotary year 2014-2015 scdheduled for the Airport Grille. Also- One you won't want to miss... June 11th, Pia Durkin!
Odds & Ends
Beatriz announced the fact that the Schwartz Center has officically merged with Rhode Island's 'Meeting Street' - a move that greatly expands their abilities to aide children with special needs.
Eric informed us that our old friend Peter Ashworth will be moving back to this area soon with a new job. Hope we can get him back on board??? Hmmm....
I'm a little late in getting this GAM out due to Thursday colonoscopy (ugh) and Friday journey to Cape Cod to meet my newest great-grandchild, Valerie, who was born on Wednesday the 14th. .
I want to happily report that Lisa has indicated interest in taking over the GAM for me.... Hooray!!! If you'd like I will give her my 1939 '10,000 Jokes, Toasts & Stories' book so that she can continue to entertain you each week if she'd like to, of course.
One More Thing
When teacher asked in what part of the world the most ignorant people were to be found, a young boy volunteered quickly, "In New York." The teacher was amazed, and questioned the lad as to where he had obtained such information. "Well", he replied, "the georgraphy says that's where the population is most dense."
Orren Robbins
GAM Editor