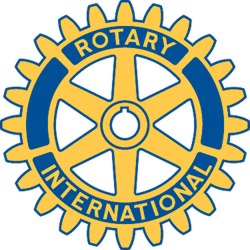 Rotary Club of New Bedford, MA - Weekly GAM
GAM...A nautical term describing the exchange of news between vessels departing from and returning to their ports...
MAY 8, 2014

This Week
.What Stu would have called it (if he had been there) - a small but dynamic and enthusiastic gathering was the theme of our back to regular Wednesday noons at the Wamsutta. We made it to the baker's dozen thanks to visitor Charlie Barrett and late but non-the-less still countable Trine, so didn't have to use Lola to reach that goal.
A brief Cheryl and Alan report on RotaFest looks like a fourteen to fifteen thousand win for our primary fund-raiser with ticket sales at $10,000.00 and auction, raffle income hovering around $5,000.00. As thanks to the very valuable food and wine vendors, Alan said that he and Cheryl are working on coming up with a 'Thank you gift' item of appreciation to be delivered to each. Some have already committed for next year's April 30th RotaFest.
In other business Alan noted that donations to the United Way, Better Community Living and Alma del Mar Charter School were approved by the Board at Tuesday evenings meeting. Cheryl gave a brief report on her attendance at the District Conference and "Volunteer" award presentation to Nelson Hockert Lotz last weekend.
Alan also noted that our Club is preparing to apply for a District 7950 grant to purchase and install a playground for the Bridge House based upon our members that attended the District Grant Seminar.
Next Week
Back to the Wamsutter again - Program to be announced.
Odds & Ends
April 100%-ers were: Cheryl, Dan,Kathy, Lisa, Alan, Paula, Ellen, Carole, Ron K., Michelle, Stu, Rich, Ron M., Tara, Tom, Orren, Marc, Linda, Mark and Nancy. Congrats to all. Average attendance for April - a respectable 75%! Good!
I really wish that one of you would be willing to take over the GAM. Three or four years doing this for the third or fourth or fifth time in 25 years is wearing me out.
One More Thing
Installment Collector: "See here, you're seven payments behind on your new piano." Purchaser: "Well. the company advertises'Pay as you play.' Installment Collector: "What's that got to do with it?" Purchaser: "I play very slowly and very poorly!"
Orren Robbins
GAM Editor