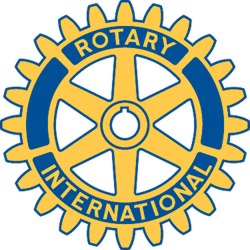 Rotary Club of New Bedford, MA - Weekly GAM
GAM...A nautical term describing the exchange of news between vessels departing from and returning to their ports...
APRIL 25, 2014

This Week
.Despite a pouring rain, eleven members joined (12th member) Beatriz Oliviera and her two associates Mary and Jessica, for lunch at the Schwartz Center for Children where we had a delightful feast, and got a close look at the work of that "where love sees no limits" group does for children with severe disabilities. With Alan at the helm, Beatriz opened with a welcoming message and CEO Mary Hodgson video, followed by a brief report by Mary of the successes of that wonderful organization that serves as many as 1200 children each year.
VISITORS AND GUESTS - In addition to Mary and Jessica we were joined by the lovely and cheerful Joy Freitas.
Next Week
Closing in on RotaFest there will be no meeting on Wednesday (the 30th.) We will instead meet at noon on Thursday, May 1st at the Seaport Inn for a final wrap-up of RotaFest planning. Please, everyone, try to make it to this important meeting.
Odds & Ends
Beatriz put in another plug for the Schwartz Center's up-coming annual "Fishing for a Cause" event on June 20th and 21st. She also stresses that if you don't wish to fish you might still like to support the cause by attending the Seaside Dinner on the 21st. More on this at www.schwartzcenter.org/how-you-can-help
ROTAFEST - Cheryl reminds all that time's a'wasting - sell those tickets, collect those raffle and auction items, and there's still time to toss in a few more scratch tickets. Tickets should go directly to Kathy or Nancy whose husband Gerry puts that special raffle item together each year.
GROUP STUDY EXCHANGE - You may have heard that Dist. 7950 wants us to host a visit from upcoming German visitors. These are always interesting meetings so hopefully we will be able to accomplish this shortly after RotaFest. Alan and Ellen are working on it.
One More Thing
Here's two "One More Thing" things that will need a bit of thinking, stolen from the May issue of the American Legion Magazine. --- TWO PARROTS were sitting on a perch. One said to the other,"Do you smell fish?" ON THE EVEN OF AN ELECTION, the candidate asked the reporter, "Did you cover my last speech?" "I sure hope so," the reporter replied.
Orren Robbins
GAM Editor