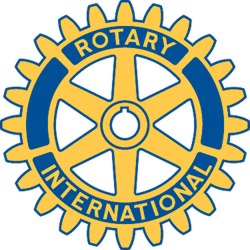 Rotary Club of New Bedford, MA - Weekly GAM
GAM...A nautical term describing the exchange of news between vessels departing from and returning to their ports...
APRIL 4, 2014

This Week
.Kind of a mixture of things with Alan outlining a host of April and May District 7950 events in his Club Assembly, (all previously mentioned in earlier GAMs and other emails that Alan and Michelle sent you); and Cheryl filling the balance of the meeting with an up-date on activity related to our May 1st RotaFest fund-raiser.
Her report confirmed that ten restaurants have already signed on, and a few more are still in the works. She put in a serious plug for selling tickets, signing up sponsorships, and soliciting silent and live auction items. Last year's auctioneer Phil Paleologos has agreed to help out as auctioneer again.
Don't forget - for every ten tickets you sell, you get one to keep for yourself - FREE!
Next Week
The second (and last) April meeting at the Wamsutta. On the 16th we are co-sponsoring a Business After Hours evening event with the Chamber of Commerce. On the 23rd we will have a noon meetingat the Schwartz Center on Posa Place, just off Chase Road in Dartmouth. And, finally, we will not meet on April 30th - rather we will meet on Thursday, May 1st, at the Seaport Inn to wrap up the set up for RotaFest that evening.
Odds & Ends
Our leader Alan and his wife Joyhave invited us once more to the Swizzle Stick Lounge - on Saturday, April 19th. This event will be catered so attendees will not be asked to bring anthing but themselves and their guests. But, because it will be catered, they need a head-count, so please let them know ASAP if you will attend and if you will be bringing a guest. More on this earlier today on email from Alan.
Eric announced that the 23rd Annual Moby Dick Scouting Golf Classic will be presented by St. Anne's Credit Union on Monday, July 14th at Portsmouth, RI. This is a fund-raiser for the Boy Scouts of America Narragansett Council. Sign up flyers or information can be had by calling Eric or Juan Osorio at 401-351-8700 ext. 34.
March 100%-ers were: Cheryl, Dan, Lisa, Alan, Ellen, Carole, Ron, Michelle, Stu, Rich, Ron, Tara,Gilbert, Orren, Marc, Linda, Mark, and Nancy. Congrats to all.
One More Thing
They were rather late in starting for the station and his wife said, "You run ahead, dear, and hold the train." "Yeh!" he answered sarcastically, "And what particular hold would you like me to use - the head-lock, scissors or half-nelson?"
Orren Robbins
GAM Editor