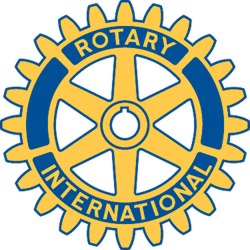 Rotary Club of New Bedford, MA - Weekly GAM
GAM...A nautical term describing the exchange of news between vessels departing from and returning to their ports...
MARCH 13, 2014

This Week
I bet I wasn't the only one that thought for a few moments that Lisa's email about "National Pork" was a typo - until her brief message about food got us back on track.
So, with the pork as the subject, we were nicely entertained this week by South Dakota farmer Lester Moellerand his wife Rosemary, as they gave us an interesting look at something we probably never thought about except for a few minutes in front of the meat section of our favorite supermarket. Their farm is 2,000 acres, and they raise 10,000 pigs each year under very tight restrictions ensuring healthy food production.
They presented an excellent video and gave a very informative report on the evolution of farming, and the evolution of pork from early years of being heavily laden with fat, to today's pork that is "as lean as chicken."
How come they live in South Dakota but come to New Bedford???? Seems they also own a house down on Cape Cod where they spend three months every winter.
Next Week
Since our meeting is two days AFTER St. Patrick's Day - who knows what could be? Reminder - at 3:00PM that day Alan will be heading up a group to go to the Ocean Explorium to meet with the newly formed Interact Club members. Our District Governor Dietrich, and Asst. Gov. Roger will be there for the event and you are welcome to attend too.
Odds & Ends
Proud to report that Cheryl attended Dist. 7950 PETS training last week in preparation for taking over as Club President on July 1st.
RotaFest tickets are printed and ready for sale. We need silent auction items, sponsorships - and members are encouraged to re-visit food and drink suppliers who they solicited last year to ask them for support again at our May 1st fund-raiser.
Lots going on in Rotary - Several opportunities for members tom learn and become more aware of District and International activities. The Club will pay your way if interested.
UPCOMING EV ENTS - March 22nd (Sat) 8:00AM to 3:30PM - Rotary Leadership Institute at AMICA Ins. Co., Lincoln, RI .
April 2nd (Sat) - Rotary Foundation Grants Program Seminar. Russ, Erik and Charlene booked - others are welcome, too.
April 12 (Sat) 8:30AM-1:00PM District Assembly at CCRI Newport, RI. Always one of the best events of the year.
April 14th (Mon) 5:30PM -9:00PM International Night at White's of Westport.
May 1st (Thur) 5:30PM - 9:00PM - RotaFest at Seaport Inn, Fairhaven
May 2nd & 3rd (fri and Sat) Rotary District Conference at Sea Crest Beach Hotel, Falmouth MA
Information on all District events can be found at www.clubrunner.ca/7950 - or call Alan for more info.
One More Thing
A rookie passing the mess hall, asked the cook: "What's on the menu tonight?" "Oh, we have thousands of things to eat tonight." "What are they?" asked the rookie. "Beans" sais the cook with a smile.
Orren Robbins
GAM Editor