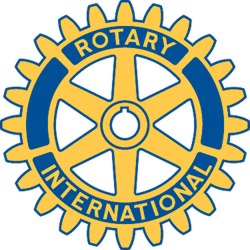 Rotary Club of New Bedford, MA - Weekly GAM
GAM...A nautical term describing the exchange of news between vessels departing from and returning to their ports...
MARCH 7, 2014
This Week
.What a pleasure to see all four tables in use and at near capacity - starting to look like the good old days. Add to that an exceptionally interesting guest speaker and fried chicken, and you've got this week's meeting.
Our program was Tim David, Mentalist, who kept us entertained pulling off a magidc trick by getting Tara and Cheryl to answer his question to each of them, just the way he needed to successfully complete his act. He found the 7 of hearts buried in the middle of his deck of cards after Tara had picked the number 7, and Cheryl had picked hearts as their answers to his questions.
I don't think we've seen the last of Tim because he invited members who wished to get on his e-mail list, to give him their cards. Very interesting.
VISITORS AND GUESTS - Tim was accompaied by his associate Cameron Ramsey - Good to see David Biggs back after a long absence. He sounds ready to become a regular again.
Next Week
.We'll have to wait and see???? Hope you will join us. Coming up - March19th (after the regular meeting) at 3:00PM, Alan is asking interested members to go with him to the Ocean Explorium to meet with the Interact Club and present them with their official certification papers. March 26th will be an evening event at the Sea Fire Restaurant downtown.
Odds & Ends
Tuesday's board meeting at Hathaway Manor saw approval of a gift of $500.00 to the Buttonwood Park Zoo.
Lots od valuable information about Rotary District upcoming events in Michelle's March 4th e-mail. If you missed it then I'm sure she will re-send if you ask her.
Tom is plugging a "Dining for a Cause" evening at the Fairhaven 99 Restaurant on Weds. March 19th - 15% of your payment will be donated to Better Community Living, plus you will get a nice meal and some satisfaction for yourself, too.
100%-ers for February - Cheryl, Lisa, Alan, Paula, Carole, Michelle, Stu, Rich, Eric, Gilbert, Tom, Orren, Marc, Linda, Mark, Nancy and Russell.
One More Thing
"In would like a straw with this lemonade"' said the lady at the table. "Hey?" asked the waiter who was hard of hearing. "No; straw, I said." was the response.
Orren Robbins
GAM Editor