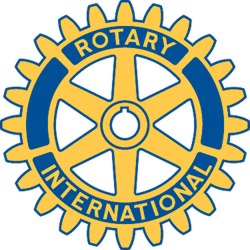 Rotary Club of New Bedford, MA - Weekly GAM
GAM...A nautical term describing the exchange of news between vessels departing from and returning to their ports...
FEBRUARY 23, 2014

This Week
Sorry to say I'm a bit late this week, but a St. Ann's Hospital/Hawthorn operation on Thursday put me pretty much out of business both Thursday and Friday and even into Saturday. . . BUT, this weeks Wednesday meeting was a good one with more than 20 Rotarians and two guest speakers in attendance.
Our speakers were Aaron Hubley, Director; and Donna Giguere, Program Coordinator, of the SMILES - SouthCoast Mentoring Initiative for Learning, Education & Service - who gave us a good look at this important program that provides Literacy-Based Mentoring for elementary school students; Traditional Mentoring for middle and high school, and Independent Mentoring for other youths. This one hour per week during school months only program was created several years back by former RCNB member Jim Mathes who is now affiliated with the YMCA.
They are always open to new mentors - for more info look them up at www.peopleinc-fr.org or call Aaron or Donna at 508-679-5233. SMILES is also having a "Miles for Smiles Walk - Run- Bike - Skate a-thon" on Sunday, March 23 at U-Mass Dartmouth - a fund raiser being sponsored by our friend BayCoast Bank. Info on this at www.firstgiving.com/SMILES.
Next Week
Don't forget - Lunch at noon at the Salvation Army HQ, 619 Purchase Street, for the annual Battle of the Bells recognition event. This is a Million Dollar Meal day so all must pay he $14 whether in attendance or not.
Odds & Ends
Still time to sign up to attend the District 7950 Foundation Grants Program, Rotary Leadership Institute training, and the Global Learning Public School event mentioned in last weeks GAM. Let Alan know if you are interested in any (or even all). The Club will pick up0 the tab for any event you would like to attend.
Don't forget May 1st RotaFest - tickets will be available soon. Auction items and sponsorship participation needed. Start thinking about those you sold to last year.
For the record - I ran into Judy Norton, our 2002-2005 World Peace Scholarship winner, a few days ago. She sent me a nice note that I would like to share with you that shows the importance and value of this RI program. .... "I want to thank you again for facilitating my Rotary application and encouraging me to move forward with it. It turned out to be a life changing, positive experience. I publish more and more (papers) on issues affecting US-China relations. At the same time I teach at China's Foreign Affairs University in Beijing. Eventually I will return to the US and teach here."....
One More Thing
Fair Maid to sailor: - "Oh, sir, what kind of officer are you?" Officer: - "I'm a naval surgeon." Fair Maid: - "My goodness! How you doctors do specialize."
Orren Robbins
GAM Editor