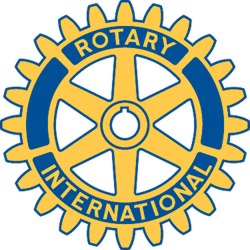 Rotary Club of New Bedford, MA - Weekly GAM
GAM...A nautical term describing the exchange of news between vessels departing from and returning to their ports...
FEBUARY 13, 2014

This Week
.Well, it has been a month since my last GAM thanks to Holidays, snow storms and problems with our web site, so here we go starting off the balance of the second half of Rotary year 2013-2014 inder the leadership of chairman Alan.
Attendance just over the baker's dozen got things going again as we heard three important messages from Alan.
Rotary Foundation Grants Program - We are looking for two Club members to attend a Rotary Grant Seminar either in Warwick on Feb.18th, or in Braintree on April 2nd. Russell Has already agreed to go so we need one more. It's an evening dinner meeting and the Club will pick up the cost. Someone must attend for the Club to be eligible to participate in matching grants.
Rotary Leadership Institute (RLI) - A day-long training meeting will be held at the AMICA Ins. Co. in Lincoln, RI on Saturday, March 22nd. This is a great way for new or veteran members to acquire in-depth Rotary membership meaning. As is the custom, our Club will pay your registration fee.
GLCPS Global Gala 2014 - Finally, as you should know, our Club has recently sponsored a Rotaract Club at the Global Learning Charter Public School. They have scheduled a fund-raiser for Saturday, March 22nd, 6:00-9:00pm at the New bedford Whaling Museum. For more information go to www.glcps.org. Alan has more info on all three events for those interested.
Next Week
Hope you will join us for lunch and fun at the Wamsutta.
Odds & Ends
February 26th has been set as the Salvation Army "thank you for Battle of the Bells" luncheon program so the February evening social will be moved. More on this next week.
ROTAFEST - It's not too soon to start thinking about that major fund-raiser scheduled for Thursday, May 1st. Cheryl is leading the way and has much already in place. All who can help should check in with Cheryl soon.
January 100%-ers - Cheryl, Dan, Kathy, Lisa, Alan, Paula, Carole,, Ron K., Michelle, Stu, Rich, Eric, Tom, Marc, Mark, and Nancy. Congrats to all.
One More Thing
Why is a vote in Congress like a bad cold? Because sometime the ayes have it and some times the noes. Get it? Okay, How were Adam and Evekept from gambling? Their pair o' dice was taken away from them.
Orren Robbins
GAM Editor