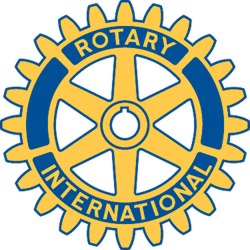 Rotary Club of New Bedford, MA - Weekly GAM
GAM...A nautical term describing the exchange of news between vessels departing from and returning to their ports...
JANUARY 10, 2014

This Week
Well, it has been quite a long time since our last 'Rotary Meeting' on December 11th, 2013 - Bit apparently the lure of a fine gift at our Yankee Swap meeting was enough to attract a good turn-out this week with twenty attendees (counting Past Pres. Kathy who checked in and then departed - which, by the way, is perfectly acceptable as long as you leave $5.00 at the attendance desk.) all having a good time.
Must admit that there was not a lot of swapping - too many candles I guess, and not enough wine and lottery tickets, but I must confess that I got six dollars of my $10.00 (+ tax) back by swapping a candle for tickets.
VISITORS AND GUESTS - Eric Oulette, Erik Dyson (I think but he was not introduced), and Russ Whynacht - all three who will become official Rotarians along with Trine Erichsen at next weeks meeting I've been told.
In other business Alan presented donations (un announced amount) to Eric and Erik for the Boyscouts' and to Tara and Dan for the YMCA. He also thanked Tara and Dan for hosting Breakfast with Santa, and Marc for his effort for that event that raised $2,000.00.
Next Week
As already noted - the installation of four new members of our club at the Wamsutta. Alan is urging a good attendance to welcome and honor those new joiners.
Odds & Ends
Your humble GAM Editor was recognized for making news in the Standard-Times on December 22nd for his years of service to the United Way of Greater New Bedford.
Did you know that Wednesday would have been the xxth birthday of Elvis Presley were he still around???
One More Thing
Once upon a time a man got up early on a Sunday morning to let the iceman in, and being unable to find his bathrobe, he slipped on his wife's kimono. When he opened the doorhe was greeted by a nice big hug and kiss by the iceman. And, the only way he can figure it out is that the iceman's wife must have a kimono just like the one he had on.
Orren Robbins
GAM Editor