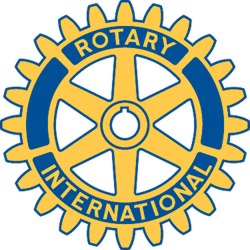 Rotary Club of New Bedford, MA - Weekly GAM
GAM...A nautical term describing the exchange of news between vessels departing from and returning to their ports...
NOVEMBER 16, 2013

This Week
A respectable crowd welcomed leader Alan back and suffered one more 'Orren joke', but also had the pleasure of sharing Alan's thanks to Tom for hosting our monthly board meetings at his Better Community Living office, by presenting him with a magnificant framed set of knots and other sea faring items for his offie wall.
A quick look at the balance of this year notes that both Christmas and New Years
are on Wednesdays, so there will be no meetings on those two weeks, and so our annual Holiday party will be held some time in January. There will also be no meeting on November 27th - the day before Thanksgiving.
But - coming up - The Battle of the Bells on December 7th, Salvation Army work day on December 11th, Bridge House Santa visit on December 18th, and of course Breakfast eith Santa on December 1st.
VISITORS AND GUESTS - Two prospective members - Erik Dyson, Executive Director of "All Hands Volunteers"; and Fairhaven attorney Russell Whynacth.
Next Week
Our final November meeting , the 20th - will be at 5:00PM at Cotali Mar, thanks to planning by Linda.
Odds & Ends
Breakfast With Santa placemat advertizing is lagging according to Marc. Please wrap up sales ASAP as time is running out. Don't forget, you can always personally chip in with a gift donation to help providing tickets for needy children. Volunteers also needed for that morning.
Did you notice the woderful article on page 13 of the November Rotarian Magazine about Cumberland-Lincoln Rotarians Norman Saute and Ann Brown donating $50,000.00 to the Rotary Foundation getting Paul Harris recognition for fifty local volunteers? Norm and Ann sure put District 7950 high on the Rotary world news. You may have met them at a District event, as I have.
One More Thing
Neighbor: "How did you get that black eye, Mrs. Higgins?" "Well,sir, me 'usband came out of prison on 'is brithday." Neighbor: "Yes." Mrs. H.: "And I wished 'im many 'appy returns!"
Orren Robbins
GAM Editor