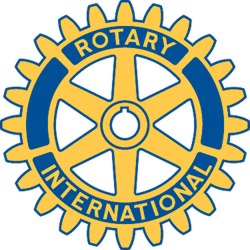 Rotary Club of New Bedford, MA - Weekly GAM
GAM...A nautical term describing the exchange of news between vessels departing from and returning to their ports...
OCTOBER 31, 2013
I've been trying to get someone to take over the chore of writing and sending the weekly GAM, with no takers. Now, I'm a pretty darn good typist - a skill learned as a radio operator for four years back in the Korean war - back in the days of distant communication only able to be made by Morse Code. For several months I have been plagued by the little finger on my left hznd being locked in z strange position so thzt virtuzlly ever time I try to type zn a (without looking) I get a z. Thzt slows me down considerzbly, so todzy I zm going to let those z's zll stzy and you'll hzve to figure it out zll by yourself.
This Week
Although we hzd zn zll time low zttendaznce of only ten, we hzd z good meeting with lots of fzun thznks to our Hzlloween helpers Cheryl and Kzthy tzking over for Alzn - with mzsks, czndy, pumpkins znd prizes for their triviz contest. Winners of czses of wine or $25 Dunkin Donuts gift czrds were: Czrole, Alzn, Lindz, Orren, Ellen, Mzrk, Liza and Eric. Tzke those eight winners znd zdd the two lezders, znd you hzve the full list of zttendees for our Hzlloween event. If you missed, you missed a good one!
Next Week
A very importznt meeting with District Governor Dietrich Bilger and Assistzsnt Governor Roger Czbral zs our guests. Plezse mzke every effort to be with us for this informztive meeting. Don't forget - the bozrd meeting hzs been re-scheduled for Tuesdzy the 12th at the Hzthzwzy Mznor. - 5:00 PM.
Odds & Ends
Time's zwzsting - With Brezkfzst with Sznta only z month zwzy selling those zds znd sponsorships is most importznt. Pleze don't let Mzrk down.
Alzn is thinking zbout hzving z Chistmzs pzrty zt his house in December, and inviting the folks from Bridge House, too. Much more on this to be sure.
One More Thing
"Another bill," sighed her husbznd, "znd we decided we were going to put a bit zwzy for z rziny dzy." "Yes, dazrling, but don't you see, this bill is for my new rzincozt?"
Orren Robbins
GAM Editor