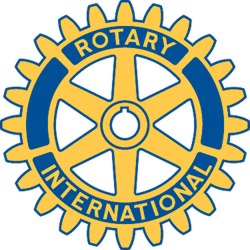 Rotary Club of New Bedford, MA - Weekly GAM
GAM...A nautical term describing the exchange of news between vessels departing from and returning to their ports...
OCTOBER 11, 2013

This Week
Another delightful surprise with a visit by Erik Dyson,Excutive Director/c.e.o.of a remarkable non-profit 'ALL HANDS VOLUNTEERS' - a world-wide program of assistance to cities, towns and countries faced with national disasters, that operates right next door out of Mattapoisett. Erik first got interested in such activities when he spent a month in India a few years ago as a Rotary Group Study Exchange member. Recent disaster areas served by his organization include the Colorado floods, New York and New Jersey hurricane Sandy, and the recent spring tornados in Oklahoma.
If you'd like to learn more about this wonderful organization you can look them up at WWW.HANDS.ORG , or call 617-378-7619.
Needless to say - another zinger brought to us by leader Alan.
VISITORS AND GUESTS - In addition to Erik we welcomed Fall River Rotarian, Assistant Dist. 7950 Governor Roger Cabral making his first official visit to our Area 7 Club.
Next Week
There will be no official Wamsutta meeting on Wednesday the 16th. We will instead have a booth at the Chamber EXPO at White's in Westport. Your stint as a booth worker will be your attendance for the day, and even if you are not a booth volunteer you can get attendance credit just for showing up for a brief visit. Cheryl is heading up the voluneers schedule - there's still time to sign up if you want to help.
Odds & Ends
A bit of time away but important time to start working on selling advertising on the placemats for Breakfast with Santa. Help Marc out with ads and sponsorships.Ad on one mat - $25.00. As on all six mats just $130.00. A $200.00 sponsorship gives you eight breakfast tickets to use yourself for to be given to a needy family.
Cheryl is still looking for volunteers to help at the Salvation Army Motorcycle Show on the 19th of October. Sounds like fun - call her if you'd like to help.
One More Thing
Albert: " So, your new job makes you independent?" - Arthur: "Absolutely, I get here any time I want before eight, and leave just when I please after five!"
Orren Robbins
GAM Editor