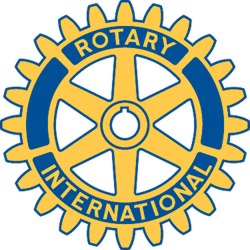 Rotary Club of New Bedford, MA - Weekly GAM
GAM...A nautical term describing the exchange of news between vessels departing from and returning to their ports...
SEPTEMBER 21, 2013
This Week
A good turn-out of twenty members (including soon to be member Eric Oulette) joined leader Alan in a surprise for past president Kathy, thanking her for her recently completed two years of RCNB Presidency. In his usual casual manner Alan first presented her with just a card signed by all members present. Then, after making that seemingly ending thank you round of applause, Alan pulled out gift #2, a neatly framed Rotary certificate of appreciation, followed by gift #3, a silver box containing a very beautiful golden wrist watch that will soon be permanently engraved with the RCNB "Thank You" on the back.
All in all a fun surprise and a nice "thank you for years of service" event recognizine Kathy's contribution to our Club.
Next Week
Our month-end meeting on Wednesday, September 25th will be an evening joining with the New Bedford Chamber of Commerce monthly Business After Hours event- 5-7PM at the SouthCoast Center for Primary and Specialty Care, at 208 Mill Road in Fairhaven. Members are encouraged to wear their Rotary name tags to help promote our Club.
Odds & Ends
Good news from Beatriz about Carole (and others) Sunday walk to raise funds for the Schwartz Center for Children had been a great success with the Rotary Club raising nearly $1,400.00 for them. Nice work to be sure and thanks to all who participated.
Coming up - Linda is working on another month end social event for October - at the wonderful Cotali Mar Restaurant in the near North End.
Cheryl is plugging a motor-cycle show for mid-day Saturday, October 19th. More on this to come we know.
One More Thing
A certain young man wrote the following letter to a prominent business firm, ordering a razor; "Dear Sirs - Please find enclosed 50-cents for one of your razors as advertised and oblige - John Jones. P.S. I forgot to enclose the 50-cents but no doubt a firm of your high standing will send the razor anyway." The firm addressed received the letter and replied as follows. "Dear Sir - Your most valued order received the other day and will say that we are sending the razor as per request, and hope that it will prove satisfactory. P.S. We forgot to enclose the razor, but no doubt a man of your cheek will have no need of it."
Orren Robbins
GAM Editor