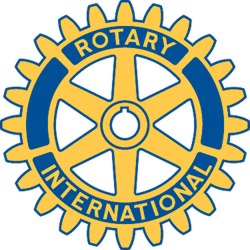 Rotary Club of New Bedford, MA - Weekly GAM
GAM...A nautical term describing the exchange of news between vessels departing from and returning to their ports...
SEPTEMBER 5, 2013

This Week
A very respectable seventeen Rotarians and three visitors pretty much filled three tables at an informative and interesting meeting. Our guest speaker was Alan Wheelock with a video presentation entitled MACBOOK AIR and sub-titled "Negotiating Styles", aimed at small business people to improve their success at dealing with others in their daily work world. His message was that business folks fall into six catagories - Skeptic, Aggressor, Litigator, Statistician, Apologist, and Obfuscator - each of which require different styles of response for successful outcome; and provided a half-dozen methods to cope with each. The key to business negotiating involves ability to "Improvise, Adapt and Overcome", with the final result earning "Trust and Respect" in your business life.
VISITORS AND GUESTS - In addition to Mr. Wheelock we were joined by Eric Oulette who now has Peter Ashworth's BSA role; and Katie Gillfeather, from Outlook EAP, who will soon be one of our guest speakers and perhaps a member?
Next Week
... Stay tuned!
Odds & Ends
At the opening Alan F. gave a brief report on the very well attended and well received August 28th visit to Waterfront Grille, reminding those who were there that they should not forget that they owe our treasury $14.00 each.
He also reported on the Tuesday board meeting at Hathaway Manor with great praise to host Gilbert for the delicious soup and sandwich snack that he provided. Donations were approved for the Southcoast Business Assn., and Community Health Service.
Good news - Our treasury now sits at near $40,000.00 - wow!
Beatriz put in a plea to members to consider joining in and donating to the upcoming September 15th walk at Fort Taber in support of theSchwartz Center for Children. More on this (i'm told) can be found on the RCNB website, and of course if interested you can call Beatriz at the Schwartz Center 508-996-3391.
Hmmmm.. I was a bit surprised that no one commented on "no GAM" last week. I guess Ron's special GAM (which I never could down load) simply took it's place?
One More Thing
Father (admiring his recently born heir) "That fellow will be a great statesman one of these days." Mother"Oh, Charles, dear, do you really think he will?" Father: "Sure of it. Look how easily he wriggles out of everything!"
Orren Robbins
GAM Editor