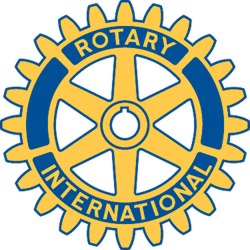 Rotary Club of New Bedford, MA - Weekly GAM
GAM...A nautical term describing the exchange of news between vessels departing from and returning to their ports...
AUGUST 22, 2013

This Week
We seem to be stuck on a baker's dozen members attendance each week even though there are many different folks missing and present each time. Don't mean to harp on this, but.......
VISITORS AND GUESTS - Two very pleasant surprises - first, a visiting Rotarian from Torrington, CT. Conrad Sienkiewitz - who became our guest speaker, by the way;, and much to our surprise in walked our old frient Peter Ashworth who is vazcationing in New Bedford, as was Conrad.Great to see you again, Peter.
Fast on his 'feat' Alan, when told by visiting Conrad that he was a "Goshen Player", signed him up immediately for a brief but very interesting and well presented explanation of his work which consisted of a group of men and women from the Goshen, CT surrounding area creating an active theatre team that since starting in 1949 turned from putting on a single performance of "Trial by Jury" to now providing a full range of Broadway musicals each spring.
Needless to say, we asked Conrad to stop by any time since it was quite obvious that he was a talented speaker who could have told us much more including a bit of Civil War history, if he had been prepared to be our speaker of the day.
Next Week
No meeting at the Wamsutta - We will meet August 28th at the New Bedford Waterfront Grille at 5:15 PM. Better nark your calendar. The following week will see the Board meeting on Tuesday, September 3rd, at 5:00PM at Hathaway Manor (thanks to Gilbert), and Wednesday, the 4th, back at the Wamsutta with Alan Wheelock as our speaker with a valuable look into business practices.
Odds & Ends
Still time to let Alan know if you will be going to the Bridge House cook-out at his Marion home on Saturday, August 24th. Sounds like a really great event that will show the Bridge House staff and children how helpful and strong the New Bedford Rotary Club is.
A bit of surprise today as Alan revealed that August 24th is not only Stu's birthday, but he will be celebrating his 51st wedding anniversary that day, too. Congratulations!
Finally - the July 100%-ers who by coincidence also make up a baker's dozen; Cheryl, Kathy, Lisa, Alan, Paula, Carole, Ron, Stu, Tom, Orren, Marc, Linda, and Mark.
One More Thing
Friend: "Why don't you give your new bungalow a name? Something appropriate, other people do. There's 'Seldom Inn', 'Walk Inn', 'Cozy Inn', and a lot of others." Neighbor: "That's an idea. As I've just finished paying for it, I'll name it 'All Inn'".
Orren Robbins
GAM Editor