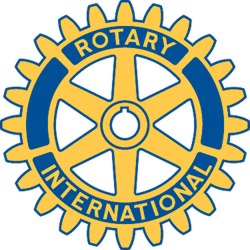 Rotary Club of New Bedford, MA - Weekly GAM
GAM...A nautical term describing the exchange of news between vessels departing from and returning to their ports...
AUGUST 8, 2013

This Week
Well, another baker's dozen members present, barely enough to out rank ten visitors joining us today for our annual Scholarship presentation program. Students who were honored with thousand dollar scholarships were all students of NBVoke. Alan (stressing that he is NOT the PRESIDENT) opened the program - and awards that were presented by Kathy, Carole and Rich went to: Amber Ferreira, Kelly Bradford, and Alexandra Borges, all present with friends and/or family. Winner Casey Lopes was unable to attend. Each of the recipients read their application letters - Rich read the letter submitted by Casey Lopes.
Also present for this occasion were Linda Enos, Superintendent of N.B.Voke, and Voke Principal Michael Murphy. By the way - the food for this sit-down luncheon was excellent!!!
VISITORS AND GUESTS - Beatriz Oliviera, nominated by Alan and now posted for membership this second time, was with us for her third visit.
Next Week
Wednesday, August 14th -Lisa's first program will be Courtney Edge-Mattos, Community Care Services, Inc., Foster Care and Adoption program.
Odds & Ends
Special thanks to Lisa filling in for attendance-taker today, and banker Nancy was with us too. Oh, shucks, might as well list all Rotarians also present. Others not previously named: Dan, Marc, Ron K., Stu, Robert, Gilbert, and me.
Don't forget - If you have something you want to see in the GAM you should give it to me. I try to take notes on everything, but often can't hear enough or write fast enough to get the details.
Special note - Starting in September board meetings will be held at Hathaway Manor, thanks to Gilbert. They will also not start until 5:00PM rather than 4:30PM.
One More Thing
"Why in the world did you ever write a policy on a man ninety-eight years old?", asked the indignant insurance inspector. "Well", expalined the new agent, "I looked in the census report and found there were only a few people of that age who die each year."
Th, th, th, th, that's all folks.
Orren Robbins
GAM Editor