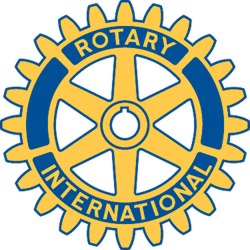 Rotary Club of New Bedford, MA - Weekly GAM
GAM...A nautical term describing the exchange of news between vessels departing from and returning to their ports...
AUGUST 2, 2013
This Week
Another baker's dozen, more than half who had also been to the Tuesday evening board meeting (which, by the way being at Cheryl's house, was a wonderful experience) were on hand today to learn about that board meeting and about Alan's philosophy and plans for the coming Rotary year.
He proudly announced that Lisa has accepted the role as program chair for the 2013-2014 period. Lisa is certainly not expected to be the only one involved in providing good weekly programs, so each of us can be expected to help out when asked, by taking responsibility for producing a speaker to more as needed.
Good news from treasurer Paula, he says, who confirms that our treasury is just under $29,000.00, almost an all-time high. Much can be done with that kind of resource to be sure.
The coming year will see only two fund-raisers. RotaFest on May 1st headed up by Cheryl; and Breakfast with Santa at Christmas time, headed up by Michelle. Marc made a special plea on that event for more help selling placemat advertising and sponsorship.
Allocations expenses have been rather sparse for a while due to a complete lack of requests. Tuesday's meeting saw $500.00 approved by the board in support of Bristol County Childrens Advocasy Center, the agency that provided our speaker on June 19th.
And finally, another confirmation of the commitment of a cook-out for staff and children of Bridge House planned for Saturday, August 24th, at Alan and Joy's home in Marion.
Next Week
August 7th will see our important annual Scholarship presentation sit-down luncheon. We expect between 9 and eleven guests at this meeting and a head-count is needed. Please let Linda know if you will be with us for that event.
Odds & Ends
Finally confirmed the list of 100%-ers for June. Happy to applaud: Cheryl, Kathy, Lisa, Alan, Carole, Tom, Orren, Marc, Linda and Mark.
Posted for membership approval on Tuesday was Beatriz Oliviera, our speaker on July 17th who is a staff member at the Schwartz Center, and is involved in the "Post Cards from New Bedford" project.
One More Thing
Mrs. Green: "Caleb, didn't I hear the clock strike two as you came in last night?" Mr. Green: "You did, my dear. It started to strike ten, but I stopped it to keep from waking you up."
Orren Robbins
GAM Editor