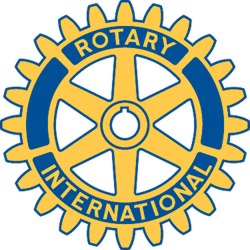 Rotary Club of New Bedford, MA - Weekly GAM
GAM...A nautical term describing the exchange of news between vessels departing from and returning to their ports...
JULY 27, 2013
This Week
As the saying goes - better late than never - I know you all have been waiting with baited breath but my steam-driven computer was ill for a couple of weeks - any way, here goes!
Another small but enthusiastic gathering of fourteen members started out with a scare that your GAM editor was going to run the meeting again, but I only opened the meeting on the spot at 12:15PM because Alan had called me a few minutes earlier and asked me to open since he was going to be a bit late. No one was fined this week.
Upon his arrival Alan's first message was that a cook-out at his home in Marion for Bridge House staff and children has been confirmed. It will be Saturday, August 24th starting at 11:00AM. All Rotarians are invited and encouraged to bring children/grandchildren along, too. Much more on this as time nears.
NO VISITORS OR GUESTS, but one significant attendee was missing - Lola had been given a day off by Carole.
Next Week
Board meeting will be held at 5:00PM on Tuesday, July 30th, at the home of Cheryl Barrett, at 4 Cranberry Lane in South Dartmouth. Cranberry Lane is a little private road, the first left off of Russell Mill Road heading West after the intersection of Russell Mill Road and Elm Street at the South Dartmouth Police Station. This will be the only board meeting this summer.
NEXT WEEKS ROTARY CLUB MEETING?... We'll see.
Odds & Ends
Alan's jjoke of the week was another Orren story - he loves me you know - about twice as funny as last week, but still not true.
We heard that the mystery of the June 5th meeting was solved. There was a meeting and the money has been given to our treasurer.
Don't forget the scholarship sit-down luncheon on August 7th. Head count needed by Linda.
Did anyone finally read the Rising at Roxbury Crossibg book?
One More Thing
Magazine editor. "Now, what we need for our next magazine cover is a girl wearing one of those religious gowns." Artist: "What do you mean, a religious gown?" Editor: "Oh, you know, one of those lo and behold."
Orren Robbins
GAM Editor