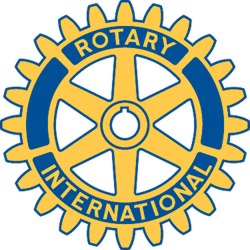 Rotary Club of New Bedford, MA - Weekly GAM
GAM...A nautical term describing the exchange of news between vessels departing from and returning to their ports...
JULY 18, 2013

This Week
Alan Freitas kicked off his first meeting as chair of the newly formed leadership committee to a pretty good sized portion of our membership, with a pledge to produce a "kinder and gentler" style of meeting than the one presented the week before by your humble GAM editor.
Alan first thanked Paula and BayCoast Bank for already agreeing to host the Chamber Business After Hours event nest April, the week before our next Rota-Fest fund-raiser. He also read a request for volunteers to help build a better playground at the Alma Del Mar charter school this Friday and Saturday. Alan has more info so if you would like to help give him a call.
He also said that he and Paula were going to visit Bridge House to firm up a summer Saturday cook-out for their children and staff. We'll know more next week for sure.
OUR SPEAKER, introduced by PP Kathy, was Beatriz Oliviera, co partner with John Hodgson, of an interesting "POSTCARDS FROM NEW BEDFORD - A Photostory Project" in place now for just about a year. She has created small booklets of photo-postcards each an interesting and cleverly framed look at New Bedford. She rightfully claims that the City is loaded with unique scenery and her goal is to share that beauty with others. This philosophy fits in perfectly with the brand new Destination New Bedford program just recently started by the City.
To learn more, go to: www.facebook.com/postcardsfromnewbedford, or call Beatriz at 774-451-4682
VISITORS AND GUESTS - We were joined by Charlie Barrett - aa photographer that not surprisingly showed great interest.
Next Week
Alan plans to begin getting more of our members to know more about each other, so get ready - you may be called upon to be the next "guest speaker". We'll see.
Odds & Ends
Coming up August 7th our annual sit-down Scholarship presentation luncheon. Because this is a sit-down a head count is needed. Please book space with Linda as soon as you know for sure.
Ron K. cheerfully paid his $1.00 fine imposed upon him for leaving the meeting last week without asking permission.
Good to see David Biggs again, and especially good to see Stuart back to his usual healthy self.
Quite a surprise just before closing - "Happy Birthday Orren" was sung in recognition that our oldest member will turn 81 years old on Saturday. I think linda had something to do with this. Thanks, all.
One More Thing
"Fred", said a young man to his friend after listening to his wild story, "do you know why you are like a harp struck by lightning?" "No", says Fred, "I give up". "Because a harp struck by lightning is a blasted lyre.!"
Orren Robbins
GAM Editor