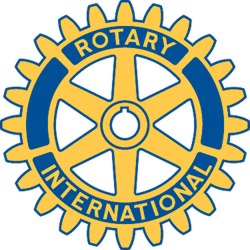 Rotary Club of New Bedford, MA - Weekly GAM
GAM...A nautical term describing the exchange of news between vessels departing from and returning to their ports...
JULY 11, 2013
This Week
Let's see . . . where to begin . . Oh, yes, I've got it. It was about 10:30AM on Wednesday when I got a phone call from Past President Kathy, who was scheduled to fill in for Alan who was out of town and couldn't run his first meeting as chair of the new management committee. She called to tell me that car trouble would prevent her from making it to Rotary, so would I mind running this weeks meeting? Of course as a Rotarian I had to say "Yes", and well . . . . .
With little prep time I decided it was perhaps a good opportunity to talk about the 'good old days' and that I would bring our Rotary Club back to the '70's (all except no women in Rotary in those days), and it all began with a very loud attention getting clang on the bell at exactly 12:15PM. Pam, who had been the first to arrive, took over the Pledge, God Bless America, and the invocation as I had asked her to.
A few late arrivals (I will not tell you who) - led by Ellen - were each immediately fined $1.00 for being late.... It was 1972 all over again! After aa brief introduction Ron K. led us to lunch, and shortly after that, in keeping with Rotary tradition, we sang...yup, sang three songs. Started with seasonal 'Take me out to the Ball Game', and closed with old favorites "Smile", and 'R-O-T-A-R-Y'.
Then after a brief report by me of a 1952 Rotary Convention talk on 'The Challenge of the Future", which we are pretty much going through again right now; everyone wearing a Rotary pin was asked to stand up. Lo and behold, Pam and I were the only ones standing - everyone else was fined $1.00 for not wearing a pin.
And so it went a bit longer with some general chatter, then ended with Happy $$s, and the Four-Way Test. And last, but not least, ... just to keep things '70's-ish... Ron IK. owes $1.00 for leaving early without asking permission.
VISITORS AND GUESTS - Just one, Pam's son Michael, who by the way, acted as a greeter, Happy $$$s collector and 4-Way Test leader.
Next Week
Perhaps back to the 2013's with Alan at the helm?????
Odds & Ends
It will probably be a long time before I am allowed to run a meeting again. Maybe not???
One More Thing
Trees to a Golfer Poet; :" I think that I will never see a hazard rougher than a tree - a tree o'er which my ball must fly if on the green it is to lie; a tree which stands that green to guard, and makes that shot extremely hard; a tree whose leafy arms extend, to kill the Mashie shot I send; a tree that stands in silence there, while angry golfers rave and swear. Niblicks were made for fools like me, who cannot ever miss a tree.'
Orren Robbins
GAM Editor