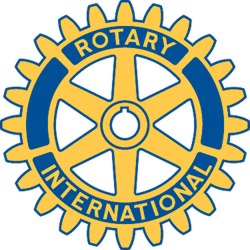 Rotary Club of New Bedford, MA - Weekly GAM
GAM...A nautical term describing the exchange of news between vessels departing from and returning to their ports...
2013

This Week
An intriguing presentation by former Massachusetts state trooper, author of the book "The Rising at Roxbury Crossing", James Redfearn. Jim first takes us back to the Boston of 1919 at the end of World War I; a city rife with conflict between recently arrived Irish resident police officers and stoic Bostonians, and at a time of considerable union and anti-union factions resulting in a Boston police officers strike. His curiosity as a police officer himself, and the grandson of a police officer, sent him digging back in history and ultimately to writing his book centered around a decade-old secret of one officer, Willie Dwyer.
As anticipated, he left us in suspense rfegarding the outcome..... But guess what? He had several copies of the book with him that were immediately snatched up by quite a few of our Rotarians who probably spent most of last evening reading instead of watching TV. A very,very intresting meeting.
VISITORS AND GUESTS - Author James was accompanied by his wife Gail. Cheryl's husband Charlie was there with his camera. Good to have Nancy with us again, and nice to see Stu back on his feet after a serious bout with pneumonia.
Next Week
No meeting on Wednesday, July 3rd, so the next meeting will be July 10th when committee chairman Alan takes over the RCNB leadership role. Hope you all can be there to support him. Next board meeting will be Tuesday, July 9th.
Odds & Ends
Almost lost in the depth of the speaker of the day - Pres. Kathy quietly ended her 104th week as our President. She deserves a great round of applause for her lengthy commitment to our Club.
Alan reported that plans are developing to have a cook-out for Bridge House children and staff scheduled for (yet to be firmed up) a Saturday afternoon in July. More on this soon.
HAPPY $$$s today to be added to last week's nearly $70.00 - to be sent to RI International Foundation to help offset previously noted short-fall of District 7950. Thanks to all who have contributed
One More Thing
School teacher: "What's the matter my boy?" Pupil: "Palpitation and insomnia." Teacher: "But you can't be suffering from those things." Pupil: "It isn't suffering, sir. It's spelling!"
Orren Robbins
GAM Editor