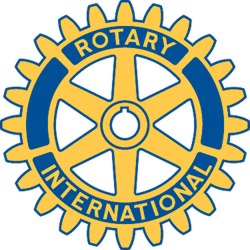 Rotary Club of New Bedford, MA - Weekly GAM
GAM...A nautical term describing the exchange of news between vessels departing from and returning to their ports...
JUNE 13, 2013

This Week
Let's see... where to begin - there's so little to mention...I know, I'll start by telling you who was there - in no special order: Lisa, Carole, Nancy, Alan, Marc, Mark, Tom, Gilbert, Robert, Cheryl and me. Lisa was the attendance taker; Alan was the leader, filling in for Pres. Kathy who was unable to attend.
It looked like "lunch and leave" and with the one exception of Alan presenting Carole with a Paul Harris Fellow certificate (with her name on it) that he had found weeks ago while rummaging around one of the Wamsutta storage rooms. Not sure whether Carole left it there, or if the person who was supposed to give it to her months, or even years ago, was the culprit.
Next Week
Hopefully back to usual meeting with President and program. Hope you will be there too.
Odds & Ends
Don't forget June 21st Summer Solstice gathering at Alan's Swizzle Stick Lounge. The April event was a smashing success and this one will surely be too. Alan and Joy need a head-count, so if you haven't checked in yet please do so soon.
Hope all members who won tickets to the United Way Clam Bake with Lobster on Friday evening will be able to use them, and that all enjoy that wonderful annual feast!
MONTH OF MAY 100%-ers: Cheryl, Lisa, Alan, Paula, Kathy, Ellen, Carole, Michelle,Stu, Orren, Linda, Mark, and Marc . (and maybe, Robert).
One More Thing
A schoolteacher asked her class to write a short essay and to choose their own subject. A little girl sent in the following paper. "My subjek is 'Ants'. Ants is of two kinds, insects and lady uncles. Sometimes they live in holes and sometimes they crawl into the sugar bowl, and sometimes they live with their married sisters. That's all I know about ants."
Orren Robbins
GAM Editor