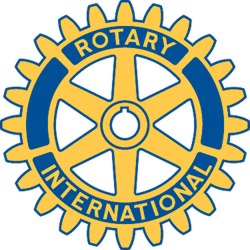 Rotary Club of New Bedford, MA - Weekly GAM
GAM...A nautical term describing the exchange of news between vessels departing from and returning to their ports...
JUNE 7, 2013

This Week
A pretty decent attendance at a very important and informative meeting presided over by Pres. Kathy and always-available Alan; and the lunch was prettty good, too.
Pres. Kathy kicked it off with a brief report of last week's visit to Travessia winery and some upcoming activities, then got down to business with a report on our Tuesday board meeting. First order of business was her announcement that she was stepping down as Club President as of the last meeting in June, and with not incoming President on tap that starting July 1st, 2013, the Rotary Club of New Bedford would be "run by a committee with Alan Freitas taking over a chairman of that committee". Michelle, in her role as secretary, will become the District 7950 contact with all District e-mails and contact getting to the committee through her. She announced that Dan Berry has signed on as our newest Board member. A round of applause followed, and she turned the meeting over to Alan.
Alan continued the discussion of this new management system, outlining plans to combat attendance problems noting that over one-third of our current membership fails to meet the attendance requirement of fifty percent each quarter - and his plans to improve that. A committee will be formed to develop a program to install a Corporate Membership Program that will certainly help.
He stressed the fact that our financial situation was solid with total assets of about $30,000.00, giving us a great opportunity to get more exposure to our community by getting involved in new ideas. He also plans to continue Pres. Kathy's current philosophy of one meeting a month being a more social outing away from the Wamsutta. Alan encourages and welcomes input from all members on ideas to improve our club's success.
One other good news item - the announcement that Cheryl Barrett has accepted the position of Vice-President Elect which will see her becoming our President for the 2014-2015 Rotary year.
Coming Attractions
Pres. Kathy and Alan both endorsed the June 21st Summer Solstice gathering planned for Alan's Swizzle Stick Lounge - noting too that that gathering will also see the installation of officers and directors for the 2012-2014 Rotary year that starts July 1st.
In the works - a July event - a cook-out party for the children and staff of Bridge House. More on this shortly.
Next Week
Not "next week', but upcoming info: June 26th meeting will be another 5:00PM gathering event - place to be announced soon. No meeting on July 3rd, day before the 4th Holiday. July board meeting moved up to July 9th, also because of the 4th Holiday.
One More Thing
Wife: " My husband has no bad habits whatsoever. He never drinks, and he spends all of his evenings here at home. Why, he doesn't even belong to a club." Friend: " Does he smoke?" Wife: "Not very often. He likes a cigar after he has had a good dinner, but I can't recall the last time he smoked!"
Orren Robbins
GAM Editor