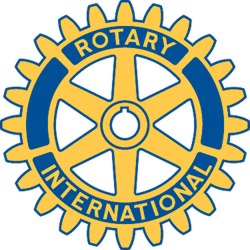 Rotary Club of New Bedford, MA - Weekly GAM
GAM...A nautical term describing the exchange of news between vessels departing from and returning to their ports...
MAY 16, 2013
This Week
Well, this week's meeting will be pretty hard to match, and even much harder to beat, as we were guests okf member Gilbert Reis, Administrator of Hathaway Manor Extended Care Facility, for a delicious luncheon and interesting tour of this magnificent property that most of us have passed hundreds of times but never actually seen until today.
Yes, it was a bit breezy, but the all you could possible eat shrimp, salad and kabobs - not to mention hot and cold drinks, fresh fruit, crackers and cheese, and a wide assortment of sweet-as-can-be desert cakes and cups to round out the meal, really made the day.
Gilbert and his staff are to be given a roaring round of applause for this exceptional event and for the delightful and impeccable atmosphere of Hathaway Manor, which looks more like a friendly first class vacation spot than a busy health system.
Oops! I almost forgot - each of us also received a nice gift of a Hathaway Manor coffee mug filled with tasty goodies to take home as a reminder of our visit.
Next Week
Sounds like a doozy of a meeting back at the Wamsutta with Alan again at the helm with a lively colorful video presentation of photographs from April's Swizzle Stick Lounge and the RotaFest fund-raiser. Hope you can be there to join in the fun.
Odds & Ends
Get ready for another treat on Wednesday, May 29th when our noon meeting is shifted to a late (5:00PM) afternoon meeting at the Travessia urban winery at 750 Purchase Street, Downtown New Bedford. Better mark your calendar today!
Let's see -It has been a while since I offered to turn the GAM over to someone else, and still no taker. All you gotta do is be at the meetings, make a few notes and summarize the day for the record and for those who were not present, to help them keep up with the Club activities. Plus, you can say anything you like about anything you wish to add your personal touch. Fun!
If you have been looking for the April 100%ers list it has not yet been completed. Look for it next week though.
Been meaning to tell you - a week or so ago I had a phone call from former member and now Floridian, John Alexander, and he asked me to say "hi" to all his old friends. He is doing well but is single again.
One More Thing
"Father", said the small boy, "What is a demagogue?" "A demagogue, my son," said the Dad, "Is a man who can rock the boat himself and then persuade everybody that there is a terrible storm at sea." (Sounds like Pres. Obama to me)
Orren Robbins
GAM Editor