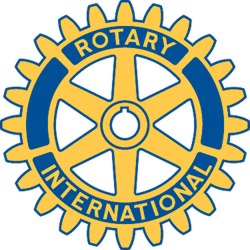 Rotary Club of New Bedford, MA - Weekly GAM
GAM...A nautical term describing the exchange of news between vessels departing from and returning to their ports...
MAY 9, 2013

This Week
There's nothing like a visit from a Rotary International Group Study Exchange team to make a Rotarian better understand the "International" aspect of RI, and this week our visit by four young folks from France and their Rotarian leader from Germany, was no exception.
Chloe, Cedric, Augustin,Thomas, and their Team Leader Kristen, gave us a very pleasant and informative look at life in France and Germany in exchange for the opportunity to learn more about the USA during their Rotary sponsored month-long visit to our country.
Very interesting highlights included the current close relationship between France and Germany considering the conflictsof WWI and WWII; and quite impressive ability of all visitors to speak quite fluent English.
Much thanks goes to Ellen for hosting that group's visit to New Bedford, and to visitors from other District Area 7 Clubs - Fairhaven, Fall River, Taunton and E.Prov/Seekonk, who joined us in welcoming the GSE visitors ths week.
VISITORS AND GUESTS - District 7950 was well represented by: District Governor Joe Clancy' District Governor-Elect Deitrich Bilger, District Governor-Nominee Valerie Perry, Past District Governor Charlie Murphy, Area 7 Asst. Governor (to be) Roager Cabral, and Pawticket Rotarian Bill Hunt who escorts GSE teams every time they are in our area. Nice to see David Biggs, and always welcome photographer Charlie Barrett. Quite frankly, there were a few more that I didn't get the names of.
Next Week
Don't forget - Gilbert Reis has invited all of us to join him for lunch on Wednesday at Hathaway Manor Extended Care Facility, 863 Hathaway Road, New Bedford.. Very important that he have an accurate count of members who will be there. Hope I'm right - you must confirm your attendance with Linda at 508-725-5200 or e-mail goldstarls@aol.colm . Pleaase do so by Monday.
Odds & Ends
Not to be forgotten - Ouch!!! Our Wamsutta server falling to the floor along with her tray of eight or more plates of food. Thankfully, she was not hurt but the luncheons and some broken dishesmade quite a pile of "stuff" on the carpet.
If anyone is interested I have information from Rotary Intenational about how to automatically have annual donations to RI from an IRA account. More info can be obtained by calling Karena Bierman, Manager of Gift Planning, at 847-866-4458.
One More Thing
Beggar: "Say, Buddy, can you give me two dollars for coffee?" Citizen: "I thought you always asked for ten cents for a cup of coffee." Beggar: "Yeah. I know, but I'm putting all my begs in one ask-et!" (You can see that this is out of my 1939 joke book.)
Orren Robbins
GAM Editor