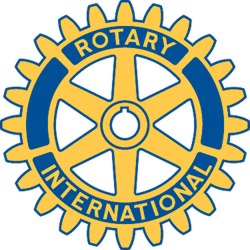 Rotary Club of New Bedford, MA - Weekly GAM
GAM...A nautical term describing the exchange of news between vessels departing from and returning to their ports...
MAY 3, 2013
This Week
Well, thanks to three guests our attendance soared to fifteen as we were joined by District Governor -Nominee, E.Prov/Seekonk Rotarian Valerie Perry; the person who will shortly replace her as Assistant Governor for Area 7, Fall River Rotarian Roger Cabral; and Fall River Rotarian Caroline Paradis, President of Junior Achievement of Southeastern Mass who was here to receive our donation to Junior Achievement of $350.00, which she did very graciously as our guest speaker.
Junior Achievement is a highly volunteer organization that serves school-age children K to 12 with programs designed to teach them skills that will give them knowledge and values to help them prepare for the work world of the future. It consists of 5 to 7 weeks of one hour in classroom training, helping to boost their confidence and expand their knowledge of a wide range of business expertise. Caroline would welcome Rotarians to attend one or more of these sessions. To learn more about Junior Achievement call her at 508-997-6536 or e-mail at caroline.paradis@ja.org
.
Governor Nominee Valerie put in a last-minute plug for the upcoming District Conference being held in Plymouth May 16th-19th. It promises a wide range of interesting programs, enlightening speakers, and even a bit of fun from time to time. Let Pres. Kathy know if you would like to attend for a day of for a few hours. The RCNB will pick up the tab, and you will have a very enjoyable experience if you've never been to one of these District events.
Next Week
One you will not want to miss! Ellen G. is heading up this meeting when we will be hosting a sit-down lunch for District 7950 Area 7 Clubs - and will be joined by Rotarians from Fairhaven, Dartmouth, Fall River, Taunton, and E.Prov/Seekonk - but THAT'S NOT ALL - we will also have seven other visitors including five people from FRANCE who are visiting this area. Because it is a 'sit-down' a head count is needed. Please let Ellen know if you will be able to attend - we surely want to have as many NB Rotarians as we can!
Odds & Ends
A brief report by Alan on the RotaFest results was most rewarding. He has already secured next years date and location (The Seaport), and many of the food suppliers have signed on. High points? Report is that Stu sold 70 tickets this year - an all-time one person record to be sure. Looks like net profit will be somewhere around $13,000.00 - very nice. By the way, Alan is already looking for a committee chair for next May's event.
I recently realized that we have not had a members list - you know, name, address, classification, phone # etc., since 2009 and I bet most of you don't have that one either. It lists 37 members, 12 who are no longer with us, and a half dozen or more that have come in and out, and a half-dozen or so of new members. Would someone like to produce an up-dated list so our newer members could have a full roster?
One More Thing
Bob: "Smith certainly is a foxy fellow. He's drawn up his will in such a way that the lawyers can't get more out of it than his heirs." Rob: "How's that?" Bob: Why he left half of his fortune to one of the best lawyers in the country, providing he saw to it that the other half went to Smith's children intact."
Orren Robbins
GAM Editor