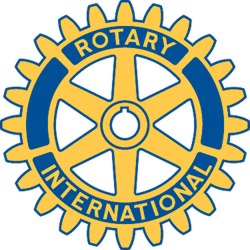 Rotary Club of New Bedford, MA - Weekly GAM
GAM...A nautical term describing the exchange of news between vessels departing from and returning to their ports...
APRIL 28, 2013
This Week
Sorry not to have this GAM out sooner, but there was no meeting on Wednesday,, no real meeting on Thursday (just lunch and work party), and I've kinda been waiting to hear something about RotaFest success that seemed to be a sure thing if you were there Thursday evening. Wonderful food, and wonderful wine in a nice atmosphere.
Much praise should be heaped on Alan, Julie, Kathy and all of their committee and other helpers because the event sure did seem to be a huge success, well received by all attendees. Thanks too, to auctioneer friend Phil Paleologos, the Chris Richards Trio, all the sponsors and everyone who sold tickets, bought tickets, donated prizes or got prizes donated.
Oh, nice to see Elaine Lima lending a hand, too.
Coming Attractions
Time's awastin', but you still can book a spot at the Dist. 7950 Convention at Plymouth the weekend of May16th-19th. Great way to learn more about Rotary and to meet a lot of people - all the way from Provincetown to Westerly.
Next Week
- Wednesday, May 1st - back to the Wamsutta where I expect the program to be a wrap up of RotaFest- and maybe more?????
Odds & Ends
I had the pleasure this morning (Sunday) of spending a bit over an hour with Jenna Archuleta, Major Gifts Officer of Rotary International Foundation Zone 32 - here for a few days from Evanston Rotary HQ - who was passing through Dartmouth on the way from Cape Cod to Rhode Island. She'll be sending me some info about Foundation support that I'll share with you later
One More Thing
Bald-headed Gent to Barber - "You ought to cut my hair cheaper, there's so little of it." Barber - "Oh, no. In your case we don't charge for cutting the hair. We charge for having to search for it!"
Orren Robbins
GAM Editor