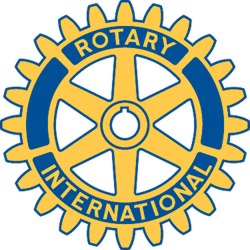 Rotary Club of New Bedford, MA - Weekly GAM
GAM...A nautical term describing the exchange of news between vessels departing from and returning to their ports...
APRIL 19, 2013
This Week
Our guest speaker, introduced by Pres. Kathy, was Dr. Steven Kennedy, Director of the Commonwealth Museum of Boston, who gave us a most interesting video look at this relatively new State Museum who's primary function is to be a source for school groups to get a really close look at Massachusetts history from as early as 1629 through the 19th Century. Among it's 20,000,000 (that's right - twenty million) documents are original papers signed by such people as Paul Revere, Samuel Adams, John Adams, John Hancock and Ben Franklin; covering a wide range of History such as the Massachusetts Constitution, Salem Witch Trials, the purchase of Cape Cod from the Indians, and the Civil War - just to name a few. New Bedford's 54th Regiment documents are there, too.
The Museum is open 9:00AM to 5:00PM Monday thru Friday (kind of like school hours) - at this time not open on weekends. For a look and more info go on the internet to Commonwealth Museum Boston.
Next Week
Busy, busy, busy with final activity for Thursday's April 25th RotaFest. There will be NO meeting on Wednesday - it will be held instead on Thursday at the Fairhaven Seaport and Marina for "last minute" wrap up.
Odds & Ends
Pres. Kathy asks that all donations of raffle and silent auction items be gotten to her, Michelle or Julie by Monday so that they can be properly recorded and prepared for our important fund-raiser. A meeting of the committee on Monday will finalize the needs of food suppliers so Seaport will have time to prepare accurately.
The framed Lottery scratch tickets raffle prize that will be put together by Gerry Dupont reached its hoped for face value of $150.00 thanks to Robert collecting 36 Happy $$$s from our "small but enthusiastic" group of just twelve members.
On a personal note - I would like to compliment Stu on his always timely invocations - like thoughtfully saying an extra paryer this week for those harmed at Monday's Boston Marathon.
One More Thing
Joe: "Does a rabbit's foot really bring you good luck?" Moe: "I should say so. My wife felt one in my money pocket once and thought it was a mouse!"
Orren Robbins
GAM Editor