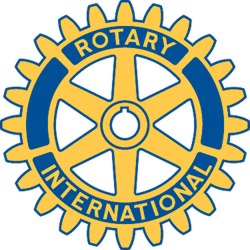 Rotary Club of New Bedford, MA - Weekly GAM
GAM...A nautical term describing the exchange of news between vessels departing from and returning to their port
APRIL 12, 2013
This Week
A strong repsentation of Rotarians joined the Chamber of Commerce and BayCoast Bank at the Wednesday evening 'Business after hours' session at the BayCoast downtown branch. Although not realoly a 'Rotary Meetin' as such, a good time was had by all thanks to an open bar (courtesy of BayCoast), and a delicious assortment of food headed up by such things as dozens and dozens of tasty meatballs and scallops wrapped in bacon, and of course an opportunity to chat with old friends and former Rotarians such as Gary Schuyler and Paul Mello, and soon to be a member again I'm told, Ron Melbourne.
The brief business session was emceed by our guy Roy of course, and included messages from Pres. Kathy putting in a good word about Rotary, and plugs for RotaFest ticket sales by Alan.
Rotarians present were: Kathy, Alan, Ron K., Stu, Paula, Linda, Cheryl, Tom, Marc, Robert, Ellen, Mark, Roy, Michelle, Tara, Lisa, Dan, and me. Other RCNB visitors were the spouses of Alan, Cheryl, and Lisa.
Coming Attractions
Only a few days left before RotaFest just one day short of two weeks away - sell those tickets - and still time to sign up to join Pres. Kathy at the District Conference being held in Plymouth between May 16-19th.
Next Week
Back at the Wamsutta with a very interesting guest speaker arranged by Pres. Kathy. PLEASE, bring bottles of wine and lottery scratch tickets needed for making up gift baskets and the very good income bringing lottery ticket raffle item assembled by Nancy's husband Gerry.
Odds & Ends
Alan and Joy's Spring Break event held in their Swizzle Stick Lounge last Saturday evening was a huge success, and tons of fun had by all. It was a well attended, well fed event, and tons of fun for all. If you haven't seen Alan's Special GAM issue about that event sent out earlier this week, take a look at it on our Club web site.
Correction - Last week I had listed the planned evening event at the Travessia as an April event - Wrong! It will be May 29th.
One More Thing
The bottle of perfume that Willie sent - was highly displeasing to Millicent; Her thanks wrere so cold, they quarreled I'm told, through that silly scent Willie sent Millicent.
Orren Robbins
GAM Editor