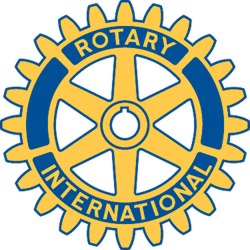 Rotary Club of New Bedford, MA - Weekly GAM
GAM...A nautical term describing the exchange of news between vessels departing from and returning to their ports...
MARCH 29, 2013

This Week
A good tutn-out had the pleasure of listening to two guest spakers this week - New Bedford Chief of Police David Provencher, who was once a member of our Club; and Reverend David from the Interchurch Council of Greater New Bedford. The program, featuring both men, was a discussion of the Gun Buy Back program that has been effectively in ourCity several times over the past few years, and has resulted in between seven and eight hundred guns getting "off the street".
The thrust of their message was that quite simply, fewer guns mean fewer problems and less opportunity for violence, and the need for responsible ownership to keep guns from getting into the wrong hands. To be effective buy backs cost about $10,000.00 to successfully do. Discussion of Rotary Club financial support leaned quite strongly to our ultimate involvement. In support of that effort Ellen surprised us all by giving a check for $50.00 to Rev. Lima, right on the spot. More on this to come, for sure.
Next Week
Another surprise????
Odds & Ends
Pres. Kathy put in a plug for the May 16-19th District Conference being held in Plymouth, and encouraged members to consider joining her there for at least a day or so. RCNB should definitely be in attendance at this important District event. She also indicated that programs for that event are being prepared, and she has committed for a $250.00 advertisement that can/will contain the name and business association of any Rotarian who wishes to be included as a supporter. E-mail information to her abd she'll do the rest.
Our April 25th ROTAFEST fund-raiser is just a few weeks away. Sales are extremely important if we are to reach the 300 sales goal. All are asked, too, to to help get raffle/auction gifts. Pres. Kathy also reminds that Lottery scratch tickets to be neatly framed by Nancy's husband Gerry, and wine/liquor to be attractively placed in baskets are needed.
Alan reminding all of the April 6th Swizzle Stick Loungs event at his home. Please let him know if you (and a guest) will be attending, and please contact his wife Joy about food donations needed.
BOARD MEETING - Tuesday, April 2nd, at Better Community Living. C'mon along if you need a make-up.
One More Thing
A professional golfer in his advice to beginners says that lifting the elbow is the cause of erratic drives and wild swings. This is particularly true when the elbow lifting starts in the clubhouse.
Orren Robbins
GAM Editor