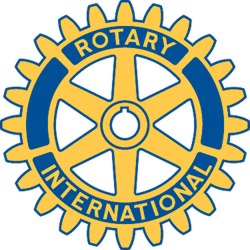 Rotary Club of New Bedford, MA - Weekly GAM
GAM...A nautical term describing the exchange of news between vessels departing from and returning to their ports...
MARCH 22, 2013
This Week
Our guest speaker, introduced by speaker of the month chair Pam, was Michael King - a writer of books about the red Sox, and the Patriots,also Trivia, and Bet You Didn't Know - with a most interesting presentation based upon "changing Trivia to Knowledge".
His routine was to ask a trivia sounding question and almost immediately turn it into historical knowledge. Questions such as: "Which of our Presidents was the first to be threatened with assassination?", and "Who saved his life?" Ans: Andrew Jackson, and Davy Crockett. Another was: "Who was the first President to be born in America?" Ans: The eighth President Martin Van Buren. (America was not an official "country" when the first seven were born.)
He wrapped up explaining that his next book would be about songs that made #1, and by generously donating three of his books to us for our RotaFest auction. Michael also sold a few to come of our members. (Watch out for more trivia/knowledge challenges from those buyers.)
Coming Attractions
RotaFest at the Seaport Inn - April 25th - Alan has locked up all wine and food contributors, and reports that several more have been added to the important sponsorship list. Tickets, posters and flyers are available and raffle items starting to trickle in. Pres. Kathy put in another plea for support of wine/liquor and Lottery scratch tickets - both valuable fund-raisers. Don't forget: Sell ten tickets and get one for your self FREE!
Next Week
Another surprise????? (No one tells me, I can't tell you.)
Odds & Ends
Plenty of time to get on board for District 7950 Conference at Plymouth on May 16-19th. Fun and fact filled event that is primarily for Club officers, but open to all who would like to learn more , and perhaps start looking for a District committee assignment.
On a personal note - I can't help but wonder why there is so much "chatter" when Happy $$$s are being collected - hard to know why some folks are happy. 'Nuff said!
One More Thing
Mrs. Clarke came running hurriedlyinto her husband's office one morning. "Oh, Dick," she cried, as she gasped for breath. "I dropped my diamond ring off my finger, and can't find it anywhere." "It's all right, Bess," replied Mr. Clarke. "I came across it in my trousers pocket."
Orren Robbins
GAM Editor