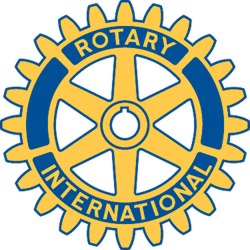 Rotary Club of New Bedford, MA - Weekly GAM
GAM...A nautical term describing the exchange of news between vessels departing from and returning to their ports...
MARCH 14, 2013
This Week
A fun, funny and fine food St. Patrick's Day adventure to be sure - faith and begorrah, thanks to the efforts of Tom, Alan and special guest of the day District Governor Joe Clancy, a man of the old soil itself.
Governor Joe's first chore and the primary reason for his visit, to bestow upon your's truly the recognition of my becoming a member of the Rotary International Foundation Bequest Society for having included the Foundation in my Last Will and Testament - presenting me with a special crystal ornament and a diamond studded Paul Harris membership pin. (I would be happy to share the requirement information with any of you who would like to know more about this.)
After the serious presentation the fun began with Governor Joe and Tom O'Riley joining forces for a St. Patrick quiz with questions pointing to the close relationship between St. Patrick himself, and Rotary International. With Cheryl, Robert and Marc judging the best answers, the four wearin' o' the green prizes were awarded to Nancy, Mark, Linda and OBR.
VISITORS AND GUESTS - In addition to Governor Clancy, Cheryl was accompanied by her son C.J. - and lo and behold, it was great to see Nancy with us again after missing her for several weeks in a row.
Coming Attractions
Governor Joe enthusiasticlly promoted the Dist. 7950 Conference coming up May 16-19 at the Radison Hotel in Plymouth as an important event to honor Club officers and members. Speakers will include Past RI President John Kenny and a member of the national Wounded Warrior Project. And, a new twist - Rotarians with "talent" are invited to become part of the opening evening (Friday) Talent Show to "show their stuff!" More info go to www.rotary7950.com
Next Week
Not sure???? Nobody tells me, and I forget to ask! Why not come and see????
Odds & Ends
Closing fast on April 25th RotaFest at the Seaport Inn. Tickets and posters are done and available. Goal is to sell 300 tickets - if you sell your ten, you get one for yourself FREE! Pres. Kathy also asking each of us to donate a bottle of wine and scratch tickets for raffle prizes that will be made up like last year. Alan happily announced confirmation of two sponsorships already in - BayCoast Bank providing $1,000.00 and Roy commiting to $300.00 from the Chamber of Commerce.
Alan is also looking for your RSVP to join he and wife Joy at the Swizzle Stick Lounge on April 6th. Sounds like fun, food, drink and more!
One More Thing
The teacher was telling the class about the discovery of the law of gravity. She said: "Sir Isaac Newton was sitting on the ground looking at a tree. An apple fell on his head, and from that he discovered gravitation. Just think, wasn't that wonderful?" "Yes'm, an' if he had been settin' in school lookin' at his books, he wouldn't have discovered nothin', piped a small boy in the back row.
Orren Robbins
GAM Editor