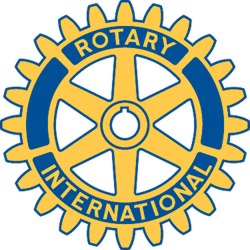 Rotary Club of New Bedford, MA - Weekly GAM
GAM...A nautical term describing the exchange of news between vessels departing from and returning to their ports...
FEBRUARY 28, 2013

This Week
Our annual Volunteer Appreciation Luncheon at the Salvation Army HQ really can't be called a "meeting- it is a luncheon - but lo and behold in spite of of the nasty weather was our best attended "meeting" of the last three weeks with fourteen members representing the Rotary Club of New Bedford as Pres. Kathy accepted the Battle of the Bells first place award for our beating the Kiwanis Club in dollars collected for the umpteenth time.
Always a delicious meal, provided by Riccardi's Hathaway Road Restaurant, and a rewarding message of thanks from Salvation Army Major Gilbert Parkhurst - our members present were: Pres. Kathy, Marc, Mark, Stu, Ron, OBR, Linda, Alan, Robert, Lisa, Dan, Tara, Dr. Bill, and Cheryl.
Coming Attractions
Still a ways off, but very important - May 16-19th District Conference being held at the Radisson Hotel in Plymouth this year. This event is a "must" for officers and club management staff, but also a great opportunity for any member to attend and gain a great deal of insight into the value of being a Rotarian.
Next Week
Meeting will be at Davy's Locker - on the shore at 1480 E. Rodney French Blvd., in NB's South End. A head-count is a must - so please sign up with Pres. Kathy ASAP if you have not already done so.
Odds & Ends
Board meeting - Tuesday, March 5th, 4:30PM at Better Community Living. Remember, you don't have to be a board member to attend, but a fine opportunity to learn a bit about Club activity and get a make-up if you're in need.
Just a little FYI - Irecently noticed that the "CFlub Meeting Date - Days and Times" list in this year's District 7950 Directory, pages 57-59 - does not list New Bedford at all????? Hmmmm....
ROTARFEST - April 25th closing in rapidly - time to start soliciting raffle/auction prizes, and lining up your ticket sales prospects. Alan still looking for signing up a few more restaurants to join with the ten wine tasting tables. Posters and tickets available soon.
Just saw the Standard-Times picture sent by Michelle - very nice - wasn't in my edition - was it in yours?
One More Thing
I love this - you will too! "Shoot for the moon - if you fail you land in the stars. That is not bad company. Many people shoot for the barn door, and if they fail - it is not a rose-colored landing."
Orren Robbins
GAM Editor