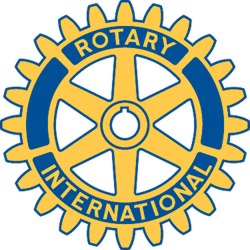 Rotary Club of New Bedford, MA - Weekly GAM
GAM...A nautical term describing the exchange of news between vessels departing from and returning to their ports...
FEBRUARY 21, 2013

This Week
Another "small but enthusiastic" thirteen members gathered bravely on this sunny but chilly Wednesday to be wonderfully entertained and informed by new member Robert Spavento giving his classification talk. Robert is a Massachusetts native who has recently opened a law office in New Bedford, right down the road at 17 South Sixth Street. His firm, RJS, standing for Results - Justice - and Satisfaction - offers a wide range of legal interests including Family Law, Consumer Protection, OUI's, and Real Estate, just to name a few. He also serves as a teacher at Fall River's Bristol Community College.
Robert lives in New Bedford with his wife Katy. His off-time interests are music (he plays guitar and drums), reading and sports - especially Boston Red Sox and Bruins. Want to learn a little more? Look him up on the internet at www.attorneyspavento.com , and definitely get to know him as a Rotarian.
Filling in for Pres. Kathy this weeek - The very capable and competent Linda Silviera.
LAST WEEK I told you who was present at our meeting - Today I'll tell you who we missed this week. In no special order: Cheryl, Roy, George, Bill R., Dr. Bill, Toni, Dan, David, Kathy, Carole, Michelle, Pam, Rich, Tara, Nancy and Gilbert.
Next Week
Our annual visit to the Salvation Army HQ on Purchase Street celebrating all of the volunteers in their Battle of the Bells Christmas fund raising effort. The following week, March 6th, we will meet and eat at Davy's Locker on East Rodney French Blvd. Both of these events need head-counts so let Kathy know if you will be present.
Odds & Ends
April 25th is quickly creeping up on us and our major fund-raiser RotarFest. Alan is still working on arranging for ten food/restaurant tables. If you have a close relationship to a local restaurant please let him know. Time to start gathering raffle/auction products, too. Last year's list is available from Michelle if you don't have one yet.
One More Thing
Botanists say that trees need the powerful March winds to flex their truns and main branches, so that the sap is drawn up to nourish the budding leaves. Perhaps we need gales of life in the same way, though we dislike enduring them. A blustery period in our fortunes is often the prelude to a new spring of life and health, success and happiness, when we keep steadfast in faith and look to the good in spitqe of appearances.
Orren Robbins
GAM Editor