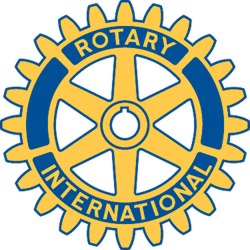 Rotary Club of New Bedford, MA - Weekly GAM
GAM...A nautical term describing the exchange of news between vessels departing from and returning to their ports...
FEBRUARY 8, 2013

This Week
A very pleasant visit by members of the Arc of Bristol County, President and CO, Attleboro Rotarian Michael Andrade; and New Bedford's Arc branch Administrative Director, Lisa Furtado, who were presented with a check for $350.00 by Awards and Allocations committee chair, Linda.
The Arc's mission is "To foster community partnerships, promote individual advocacy and create a pathway for growth and innovation by offering exceptional support and services to people with all abilities through the attraction, development and retention of superior talent who passionately demonstrate best practices." They offer services to young and old with disabilities through a network of seven locations including the Arc of Greater New Bedford.
More info on the Arc and their services can be found at www.arcnbc.org
Next Week
What I know will be a super program - Spinner Publications will be entertaining us on the subject of "Love of New Bedford".
Odds & Ends
Alan updating us with info on, and action needed for our April 25th RotaFest fund-raiser. Confirmed restaurants supplying food are Cotali Mar, Waterfront Grill, Texas Road House and Fay's; and several more are being approached. For a lot more detail I urge you to see Alan's e-mail sent to all on Thursday the 7th. He's working hard - you can help, too.
Thanks to Stu for taking attendance,Tom for handling Happy $$$s, and visitor Michael for leading the closing Four Way Test this week.
February Birthdays: Rich will grow older on February 13th, and Pam will gain greater prestige and world recognition on the 19th.
Lots of 100%-ers for January - Congrats to Cheryl, Dan, Kathy, Lisa, Alan, Paula, Ellen, Carole, Ron K., Michelle, Stu, Rich, Tara, Bill R., Orren, Marc, Linda, Mark, Nancy, Gilbert and Robert.
And, oh, by the way - I'd love to turn over GAM writing to someone else having done this for three or four years. Lots of fun and fooling around - very little pay.
One More Thing
The live-wire salesman walked into the factory and demanded an interview with the manager. "Look here, sir", he began energetically, "I'd like to talk to your men and sell them my correspondence course on how to put fire and sparkle into their work." The manager turned pale. "Get out of here," he roared. "Get out you idiot - this is a dynamite factory!"
Orren Robbins
GAM Editor