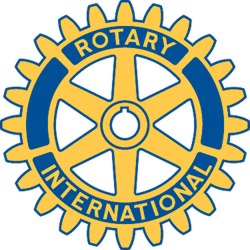 Rotary Club of New Bedford, MA - Weekly GAM
GAM...A nautical term describing the exchange of news between vessels departing from and returning to their ports...
FEBRUARY 1, 2013

This Week
A delightful and informative visit from Lynn Donohue, recipient of a District 7950 Community Volunteer Award last Fall, author of a book, Brick by Brick, and New Bedford's first and only woman bricklayer - who was introduced by Alan. Lynn told a thought provoking story of her life's ups and downs from the challenges of being raised in New Bedford's South End, to her ultimate successful transition from pretty much lost to determining that becoming a bricklayer would, and did, change her life.
As the only woman member of the New Bedford bricklayers union for thirty years, her book will open your eyes to what turned her around allowing her to "leave her mark on New Bedford history", starting out working on the cobblestone streets to ultimately having her own business, and certainly deserving of the Community Volunteer award.
VISITORS AND GUESTS - In addition to Lynn. we were joined again by Cheryl's husband, photographer Charlie Barrett.
Next Week
Pam starts her month of program planning.
Odds & Ends
Alan still plugging our April 25th Wine and Dine event - now only a bit over two months away
- stressing the need for committees to begin confirming wine and food commitments, and for all to start thinking about obtaining articles for our raffle and/or auction fund-raising, too.
One more reminder - dues are due!!!!
Still time to plan to attend the District Assembly at White's on Saturday, February 2nd. RCNB will pick up the tab if you go.
Board meeting Tuesday, Feb 5th at Better Community Living.
One More Thing - Inspired by Lynn Donohue
DON'T QUIT - When things go wrong as they sometimes will, When the road you're trudging seems all up hill, When the funds are low and debts are high, And you want to smile, but you have to sigh, When care is pressing you down a bit, rest if you must, but don't you quit.
Life is queer with iit's twists and turns, As everyone of us sometimes learn, And many a failure turnes about, When they might have won had they stuck it out; Don't give up though the pace seems slow - You may succeed with another blow.
Success is failure turned inside out - The silver tint of the clouds of doubt, And you never can tell how close you are, It may be near when it seems so far; So stick to the fight when you're hardest hit - It's when things seem worst that you must not quit.
Orren Robbins
GAM Editor