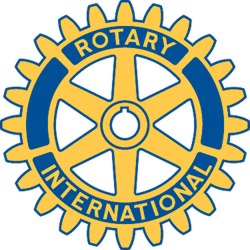 Rotary Club of New Bedford, MA - Weekly GAM
GAM...A nautical term describing the exchange of news between vessels departing from and returning to their ports...
JANUARY 23, 2013
This Week
Stu couldn't have said it better when he referred to us as a "small but enthusiastic" group in his opening prayer on this bitter cold day when our group totaled just fourteen members. Pres. Kathy announced early that there was no program so we would just greet, eat, and go back to our warm work places or homes.
And, speaking of Stu - he took the opportunity to express his pride, pleasure, and thanks when participated with Pres. Kathy at the delivery of five Ipads (given in recognition of his contribution to the Rotary Club of New Bedford) to the Nazarene Christian Academy last week.
He got a big round of very well deserved applause!
And - Alan putting in another plug for a "Spring Breas"event at his basement bar and grille, said that ther originally planned March date would be moved forward to Saturday, April 6th. Better put this on your calendar, and don't forget that spouses and friends are also invited.
Next Week
Our program will feature Lynn Donohue. Lynn was recognized at the September 19th District 7950 Community Volunteer Night as our New Bedford special volunteer.
Odds & Ends
Nagging Nancy is no longer our Treasurer, so I take this opportunity on behalf of Patient Paula to remind you that Dues are Due in case you have not done so yet.
Can't help but note that the small but enthusiastic group today contained all three of our newest members - Cheryl, Gilbert and Robert - good work folks.
Remember the District Assembly at White's on Saturday, February 2nd, is open to any Rotarian who would like to attend. It is an 8:30AMish to 1:00PMish and includes brunch and lunch. Let Pres. Kathy know if you would like to go.
One More Thing
"Well, Sam, I'll tell you how it is. You see, I married a widow, and this widow had a daughter. Then my father, being a widower, married our daughter, so you see my father is my own son-in-law." "Yes, I see", said Sam. "Then again my step-daughter is my step-mother, ain't she? Well then, her mother is my grandmother ain't she? I'm married to her, ain't I? So that makes me my own grandfather, doesn't it?"
Orren Robbins
GAM Editor