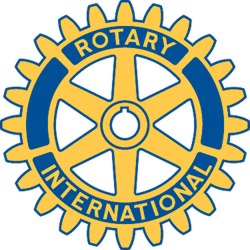 Rotary Club of New Bedford, MA - Weekly GAM
GAM...A nautical term describing the exchange of news between vessels departing from and returning to their ports...
JANUARY 18, 2013

This Week
The highlight of this week's meeting was the induction of two new members, and important event indeed in today's Rotary world. OBR, accompanied by their sponsor Alan and Pres. Kathy, officially brought Gilbert Reis, Administrator of Hathaway Manor Extended Care Facility, and Robert Spavento, Attorney, into the Rotary world as members of our Club. We will be asking them soon to give us Classification Talks so that we can get to know each of them better. Alan presented them with their Rotary Pin, and Pres. Kathy gave them each a Rotary coffee cup.
Please make sure to introduce yourself to them and to make them feel warmly welcomed into our group.
ALSO - We had the pleasure of being visited by Area 7 Assistant District Governor (and District Governor Nominee) Valeire Perry, a member of the East Providence/Seekonk Rotary Club, who gave us a brief look into District activities. She was especially promoting the February 2nd District Assembly at White's of Westport, an opportunity for any Rotary member to gain a wealth of information and experience. Also on the District agenda are a Leadership Meeting on March 23rd, a RYLA (youth leadership program) event April 19th, and International Night at White's on April 23rd. She welcomed Gil and Bob into Rotary by giving each of them a pin with the new RI theme.
VISITORS AND GUESTS - In addition to Valerie, it was good to see our friend Ron Melbourne with us again.
Next Week
One more surprise?????
Odds & Ends
Active Alan gave an update report on the coming April 25th Wine and Dine fund-raiser event - noting that he has secured the services of ten wine tables and a commitment too of beer and ale samples. He has also lined up ten food suppliers, sure to provide a feast for all attending. Don't forget - if you sell ten tickets you will get a ticket for yourself FREE!
Alan is also working on a spring cook-out event for the children and staff of Bridge House, and a "Spring Break" party in March at his very interesting and realistic basement bar and grill room.
One More Thing
Grandpa - "My little man, you shouldn't say, 'I ain't going.' You should say 'I am not going,' 'He is not going,' 'They are not going,' 'We are not going,' 'You are not going,' 'We are not going,'. "Little Johnny -"ain't nobody going?"
Orren Robbins
GAM Editor