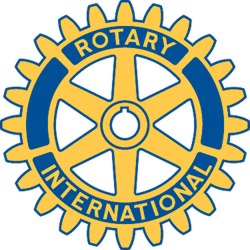 Rotary Club of New Bedford, MA - Weekly GAM
GAM...A nautical term describing the exchange of news between vessels departing from and returning to their ports...
JANUARY 10, 2013

This Week
Rotary year 2-13 started with a good turn-out and lots of action as we welcomed the new year at the Wamsutta with four new visitors.
Top of that list, introduced by Ellen Gitlin, was Kristine David, Providence Rotarian who is District 7950 Governor Nominee Designate and so will be District Governor for Rotary year 2015-2016. She is currently the District Interact Chairperson and has been working with Ellen to start an Interact Club at our Global Learning Charter School. Kristine gave a very informative summary of the progress of the 30 Interact Clubs presently in place in our District, and their work with leadership skills and community service projects. Interact is an excellent source of future leaders and future Rotarians, and is a vital key to the future of Rotary International.
Also with us today were Global Learning Charter School members Lynn, Felix and Heidi as guests. You will be getting much more information on this Interact program as the year progresses.
YANKEE SWAP - The balance of our meeting was our annual Holiday Gift Yankee Swap that saw 17 members giving and taking gifts, several of which probably will show up again next year if folks can re-find them to re-gift them.
Next Week
We will be inducting two new members, Gilbert Reis and Robert Spavento, both sponsored by Alan. Let's hope for a good turn-out to welcome them to our Club.
Odds & Ends
January Board meeting will be held at Pres. Kathy's house in Fall River on Tuesday afternoon, January 15th. Directions were sent earlier this week and a reminder will surely be sent again between now and then.
January Birthdays - Dr. Bill 1/18; and Marc Shpritzer 1/22 - Best to both!!!!
Did you see that Paula Freitas had been nominated as The Standard-Times New Bedford "Woman of the Year", and that old friend Gary Schuyler was named Southcoast "Man of the Year"? Congrats to both of them!
A record breaking 24 100% attendees for the month of December. Let's hear it for: Toni, Cheryl, Dan. Robin, Kathy, George, Lisa, Alan, Paula, Ellen, Carole, Ron, Dr. Bill, Michelle, Stu, Pam, Rich, Kristen, Tara, Bill R., Orren, Mark, Linda and Nancy.
One More Thing
Man - "She sang that song in a very haunting manner." Woman - "Do you think so?" Man - "Yes, there was just the ghost of resemblence to the original air."
Orren Robbins
GAM Editor