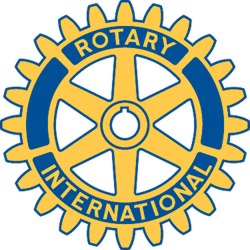 Rotary Club of New Bedford, MA - Weekly GAM
GAM...A nautical term describing the exchange of news between vessels departing from and returning to their ports...
JANUARY 2, 2013
This Week
Well here we are, another week without a get-together,
But perhaps it's just as well you see, considering the weather.
We're just not used to days and days unusually cold,
But spring is just around the corner - so we're being told.
So bundle up with hats and gloves, and red and rosy cheeks,
And come to Rotary's Yankee Swap with gift in hand next week.
And start the New Year off again with Service Above Self,
And bring a gift you really hate, just take it from your shelf.
And wrap it up so it looks good, and hope sombody loves,
So you go home with something else, how 'bout a pair of gloves?
Or maybe you get lucky, with a million dollar prize
From a lottery scratch ticket - you won't believe your eyes!
So as we start our meeting - please show how much you care -
And try your best to join us - we really want you there!
Next Week
Back again - Wamsutta at 12:15PM, 1/9/13
Odds & Ends
Board Meeting - Tuesday, January 8th - Watch for Pres. Kathy e-mail about where and what time.
Looking ahead - Two new members to be inducted on January 16th - Gilbert Reis and Robert Spavento - both sponsored by Alan. Mark your calendar and join us (and them) for this important event.
Election of officers and board members - Time to hold annual elections - more to come. We value your support.
One More Thing
Time to go back to my 1939 book of 10,000 Jokes, Toasts and Stories - you'll love 'em. In the words of Gerald F. Liberman - "I can no longer bring myself to wish anyone a Happy New Year. Not when I think of what would make them happy."
Orren Robbins
GAM Editor