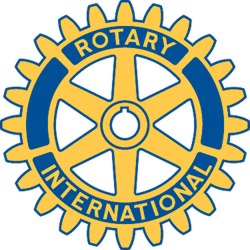 Rotary Club of New Bedford, MA - Weekly GAM
GAM...A nautical term describing the exchange of news between vessels departing from and returning to their ports...
December 27, 2012
This Week
Well, the world didn't end last Friday, as you probably know by now,
And we've wiggled our way through Christmas, though sometimes I do not know how.
So next up is another Holiday, as we start off year twenty-thirteen,
And how it will go of course, good, bad or what; right now remains to be seen.
So wrap up this year, like you wrapped up those gifts,
And get ready to think thirteen when the calendar shifts.
And think about Rotary meetings not had
And get ready for January 9th and be glad.
That day will be Christmas all over again
As Yankee Swap will be held as the new year begins.
So here's wishing Rotarians all, good health and a lot of good cheer
As we wrap this one up, and get ready to serve, another Rotarian year.
Next Week -
Just covered .
Odds & Ends
Don't forget Yankee Swap on Wednesday, January 9th
Mark (with a k) asked me to point out that the Battle of the Bells winner recognized last week was not him - it should have said "Marc", (with a c)
January Birthday - Here's to Dr. Bill, 1/18; and to Marc (with a c) 1/22.
One More Thing
This is probably the shortest GAM that most of you have ever seen, so feel free to read it as many times as you wish.
There's a story about four men named Everybody, Somebody, Anybody, and Nobody. There was an important job to be done , and Everybody was asked to do it. Everybody was sure that Somebody would do it. Anybody could have done it, but Nobody did it. Somebody got angry about that because it was Everybody's job. Everybody thought Anybody could do it, and Nobody realized that Everybody wouldn't do it. It ended up that Everybody blamed Somebody, when acutually Nobody did what Anybody could have done.
Orren Robbins
GAM Editor